I've been waiting with bated breath for this photo, and it didn't disappoint. Behold the Curiosity landing site as seen from HiRISE on August 17, or sol 12 of Curiosity's mission. The rover's in the same position as it was when it landed. But this was the first time since landing that Mars Reconnaissance Orbiter passed nearly directly overhead; it had to tilt less than 10 degrees to the side of its path to spot Curiosity on the ground. (The previous best image of the landing site had an emission angle closer to 30 degrees.) Being overhead does two things to improve the image. The range to the target is shorter, which means the resolution is better. And the path length through the atmosphere is shorter, which means it's less hazy. Both of those have combined to produce a view of Curiosity that resolves amazing details.
First, the wide view, which includes the rover's first driving target of Glenelg. I'll be using this as a base map on which to track Curiosity's driving progress.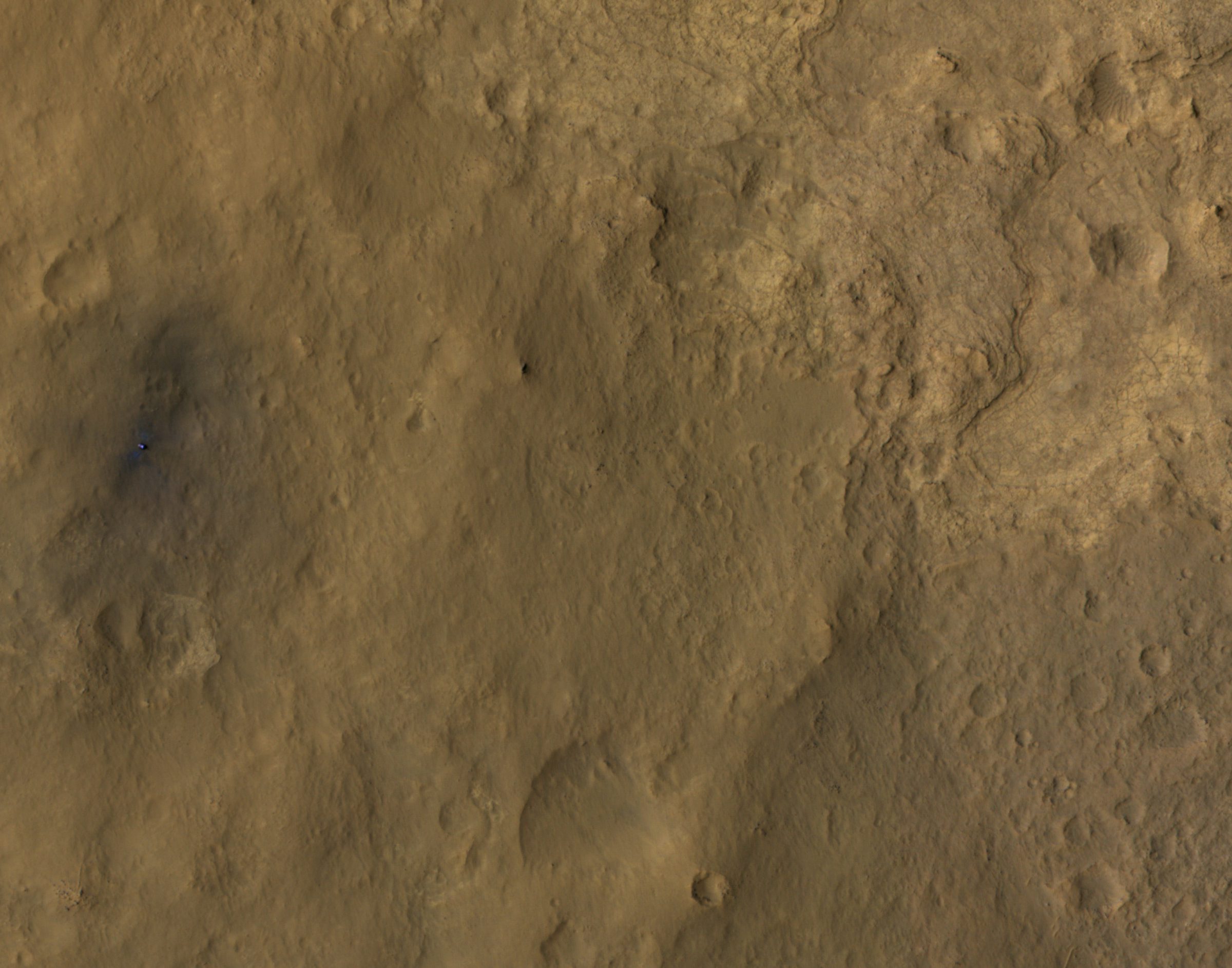 And next, a full-resolution view centered on the rover. This is at 25 centimeters per pixel. The image is 134 meters on a side.
Squint at that photo and you'll clearly see the shadow of the mast poking in front of the rover. That's nothing we haven't seen before; HiRISE can even resolve Spirit and Opportunity's much shorter mast shadows. But check this out. Blow up the photo a bit more, and I can convince myself that I can see the mast head, the shadow of the turret (which is parked on Curiosity's left shoulder), of course the RTG, and even distinct bumps for each of Curiosity's wheels. That makes sense, because the wheels have 50 centimeters diameter, right at the resolution limit for a 25-centimeter-per-pixel photo. But still. We can take a photo from space of the six rover wheels on Mars. What an awesome camera!!
You are Part of LightSail's Legacy
Let's share the story and success of LightSail® - help secure LightSail's legacy!
Donate Today