Emily Lakdawalla • Aug 25, 2014
Best-ever Neptune mosaics for the 25th anniversary of Voyager 2's flyby
In honor of the 25th anniversary of the Voyager 2 flyby of Neptune, image magician Björn Jónsson has applied his skill to some underappreciated images of the distant ice giant. Behold the highest-resolution global mosaics of Neptune ever produced: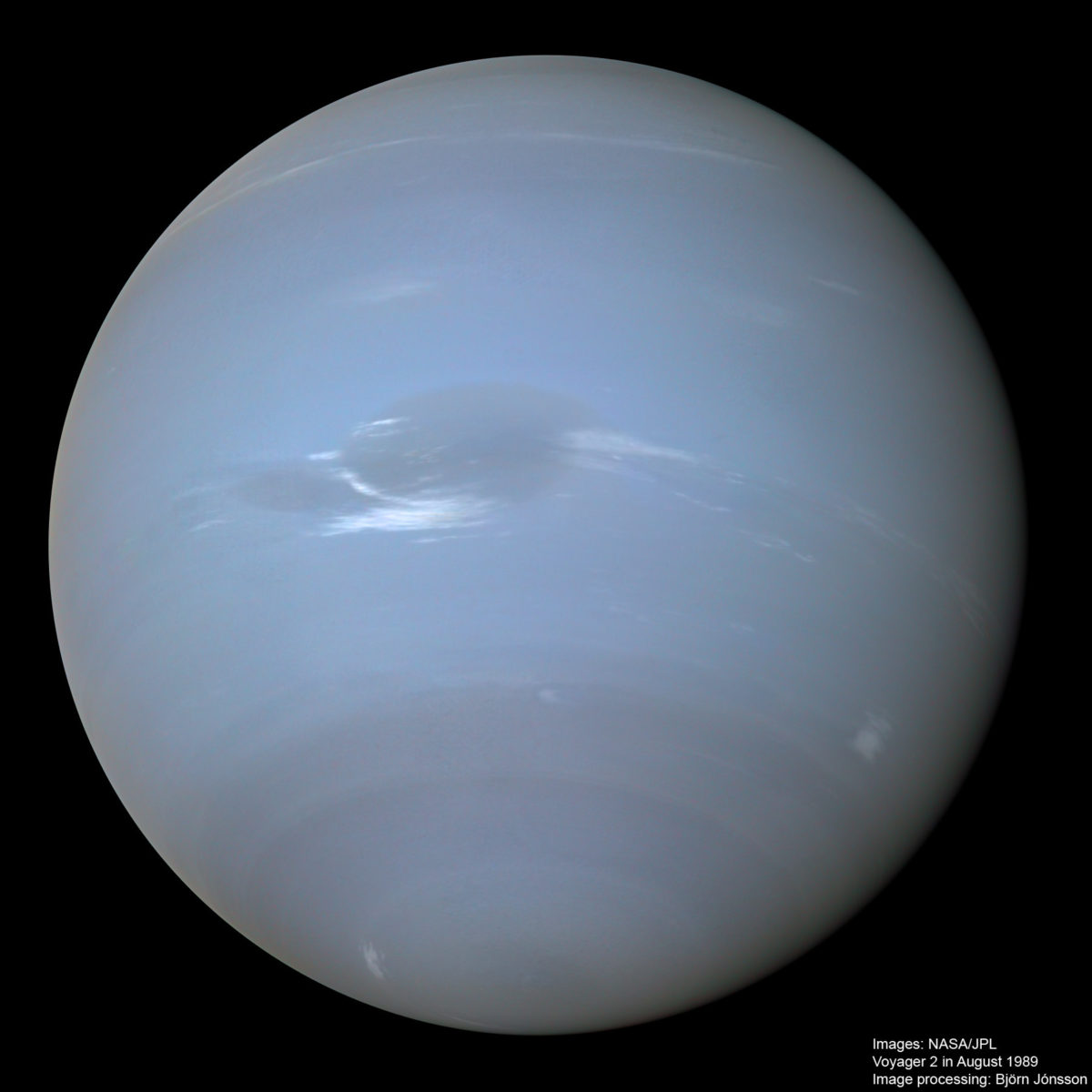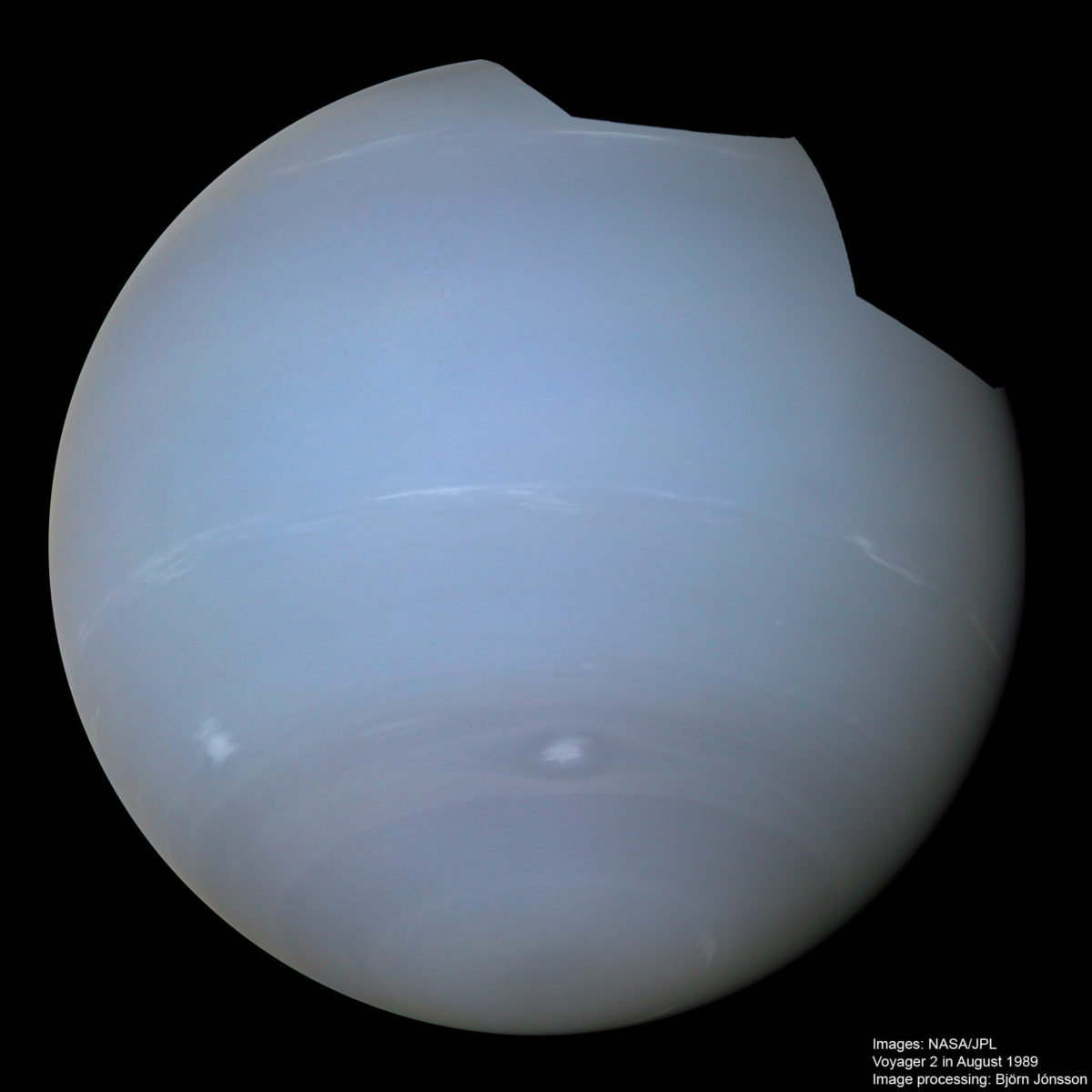 Almost all global views of Neptune that you have ever seen before were taken when Voyager 2 was far enough away that the globe entirely fit within Voyager's field of view. In fact, nearly every photo of Neptune in every book is a color composite of these three photos taken through violet, orange, and green filters. In these photos, great Neptune spans barely 750 of the Voyager camera's 800 pixels. To get a higher-resolution view, you would need to make a mosaic, assembling maybe a 2-by-2 or 3-by-3 array of photos covering the disk. That gets into rapidly increasing amounts of data: 12 images for a 2-by-2 mosaic, and 27 images for a 3-by-3 mosaic.
Unfortunately, Voyager 2 could not acquire the data needed to make such a mosaic at Neptune, for a number of reasons. It was flying past the planet extremely fast, and Neptune rotates fairly rapidly (once in 16 hours), so shifts in perspective made cloud features move quickly from one frame to the next. But a bigger problem was that Voyager 2 transmitted most of its data to Earth in real time. At Neptune's vast distance from the Sun, Voyager 2 could only transmit one image every five minutes, so individual images could not be taken any less than five minutes apart. Even a 2-by-2 color mosaic would take an hour of Voyager 2's precious close-encounter time, and the data taken through those different filters largely redundant.
Voyager 2 could, and did, obtain high-resolution data through one or two filters (usually green and clear, which could take the shortest exposures and therefore the sharpest photos). So it's these data that Bjorn has used to make the mosaics above, colorized with lower-resolution color data. Here is the underlying grayscale image, with contrast enhanced:
Voyager 2 usually had to transmit everything to Earth in real time. At the low bit rates possible from Neptune's distance from Earth this meant a long time between successive images. This makes assembling mosaics of Neptune difficult since the images that must be used are obtained over a period of many hours (or even a few tens of hours for big mosaics) and Neptune rotates fast. The best way for assembling big Neptune mosaics is to reproject the images to simple cylindrical projection as I typically do when doing mosaics of Jupiter or Saturn. But in addition I had to remove the effects of global illumination using an inverse photometric function when reprojecting the images, otherwise seams in the map can't be removed with acceptable result. In contrast, this is not the case when dealing with Jupiter or Saturn.

I then assembled a mosaic in simple cylindrical projection and then rendered images of Neptune using the appropriate photometric function. This results in some photometric innaccuracies (the photometric function isn't 100% accurate) but despite this the resulting global images are much better than what one gets by using the source images directly, since the illumination conditions change fast due to Neptune's fast rotation. All of this was done in grayscale as only green and clear filter images were available. I used mainly green images since they had better contrast than the clear filter images.

In addition to the complications mentioned above, some of Neptune's atmospheric features change very fast (especially the bright clouds) and also the rotation period (or zonal winds) varies a lot with latitude. Major features can drift over 60° in longitude during one rotation of the planet. Because of this the relative longitudinal positions of the cloud features are only approximate in the mosaics above.

The final step was to colorize the grayscale renders. For that I used an earlier global true color image I assembled back in 2009 - it can be seen below.

With all of the caveats above, the result is the highest resolution global mosaics of Neptune that I have seen.

Most of the source images I used were obtained about 2 to 3 days before closest approach when Voyager 2 was 3 to 4 million km from Neptune. I used the calibrated and geometrically rectified images available at the PDS Planetary Rings Node. I used about 20 images.
Here is his earlier color composite, from 2009.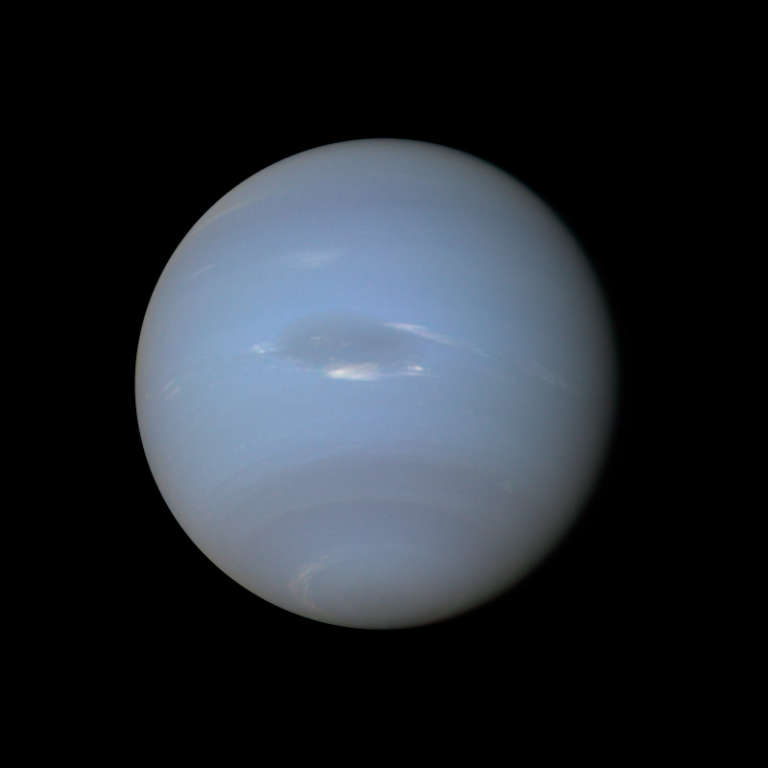 Support Our Core Enterprises
Your support powers our mission to explore worlds, find life, and defend Earth. Tomorrow's discoveries begin today.
Donate