I post these pictures for no other reason than they're cool. Here's a photo of the recent Cumberland drill hole, taken after dark by the MAHLI camera on the end of Curiosity's arm. Note the line of scorched dots down the back wall of the drill hole -- those are Chemcam shot points. Pew pew pew!
MAHLI can take photos like this after dark because it's equipped with a set of LEDs. Here they are, blinking on and off in a test during Curiosity's first use of the arm:
But this sol 292 observation gets cooler, because they used Mastcam to shoot a photo of MAHLI illuminating the ground at night. The Mastcam photos have a lot of speckle noise because the cameras really weren't intended to be used under such weak illumination conditions; they had to do a long exposure, I'm sure. I did some work on this image to reduce the noise, though I had to be careful because one of the wonderful things about this photo is the shadows thrown by the little spheroidal nodules protruding from the otherwise flat surface of the rock, and my despeckling filters wanted to get rid of those shadows, too.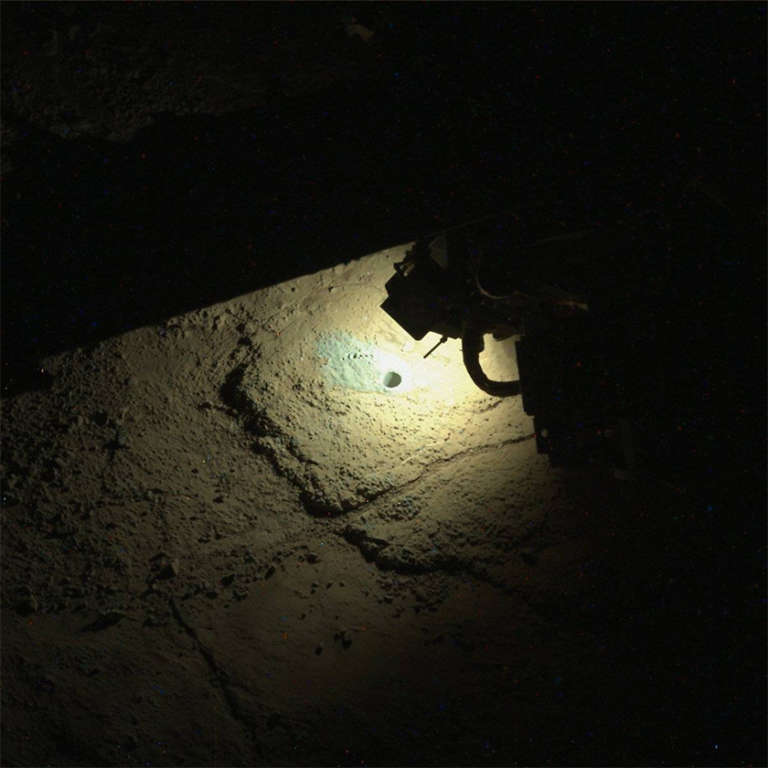 A very creative member of the public figured out he could use the various MAHLI images of the inside of the Cumberland drill hole to produce an "unwrapped" view of the walls of the hole. This is actually something geologists do with boreholes all the time; they map rock contacts and veins and figure out which way they're tilted. It's unlikely that the unwrapping below is geometrically perfect but it is a mighty cool view into our little drillhole on Mars.

Support Our Core Enterprises
Your support powers our mission to explore worlds, find life, and defend Earth. Tomorrow's discoveries begin today.
Donate