Emily Lakdawalla • Jan 31, 2014
Beautiful view into the valley beyond Dingo Gap, Curiosity sol 528
Oh, my, is this an amazing view. Layered rocks cropping out of canyon walls. This is so much more like Earth than anything we've explored on the Martian surface before. This is an 8-by-2 panorama captured by Curiosity on sol 528, after she drove up on to the toe of the sand dune that sits across Dingo Gap, a gate into some spectacular geology.

Why am I excited about this panorama? Well, let's take it bit by bit. Here's one photo from the left side of the gap; I'll interpret it below.
First of all, it's steep. It cuts right across the geology, which plainly consists of superposed layers of rocks. These rocks were laid down in order, from bottom to top, under slightly different conditions that give them different lithology. You can see two prominent, darker bands of rock that are more resistant to erosion than the rest of the rock in the wall. Look closely at those rocks and you can see they're partly made of rounded pebbles. This is more Martian river rock. Hot dog. It's not the kind of rock that would be great for preserving organics (too energetic an environment, too much water flowing too actively) but it does speak of a watery Mars.
Above those pebbly rocks are some very thinly laminated rocks. Those can't have pebbles or else the pebbles would disrupt the layers. This stuff looks like the rock Curiosity saw back at Shaler, which is a beautifully cross-bedded sandstone. The rock is broken up here so I can't tell if there are cross beds but I wouldn't be surprised if there were.
But wait. Look across to the other side of the gap, and a bit further down the slope. We see the two resistant blocky layers -- they're too far away here to tell if there are pebbles, but one assumes these are the same two layers visible on the left side of the gap. Look downhill from those, though, and you get to a lighter-toned rock with obvious cross-beds, in a feature right at the center of this photo; beds truncate abruptly against a flat surface.
Look farther down into the valley (in the original panorama) and you can see places where bedrock reaches the surface, and other places where it seems to be swallowed in sand. The bedrock is slightly lighter-colored than the sand.
The landscape is beautiful and would make for lovely scenery while driving, but looking at it, I did find myself wondering if there is anything to be encountered here than is different from the rocks we saw and studied already at Glenelg. After all, I can look at those rocks in the walls of the gap and see analogies to the stuff we saw at Glenelg. It's possible there's nothing worth stopping at here; that's why Curiosity is driving, after all, to get out of the rocks that fill the crater floor and reach the enticing rocks at the base of the mountain.
Where are they headed? We can get some clues from yesterday's Curiosity press release. They are trying to get to a spot called KMS-9. Here is an overview from a HiRISE photo, showing you where Curiosity is now (Dingo Gap) at the upper right, and KMS-9 at the lower left.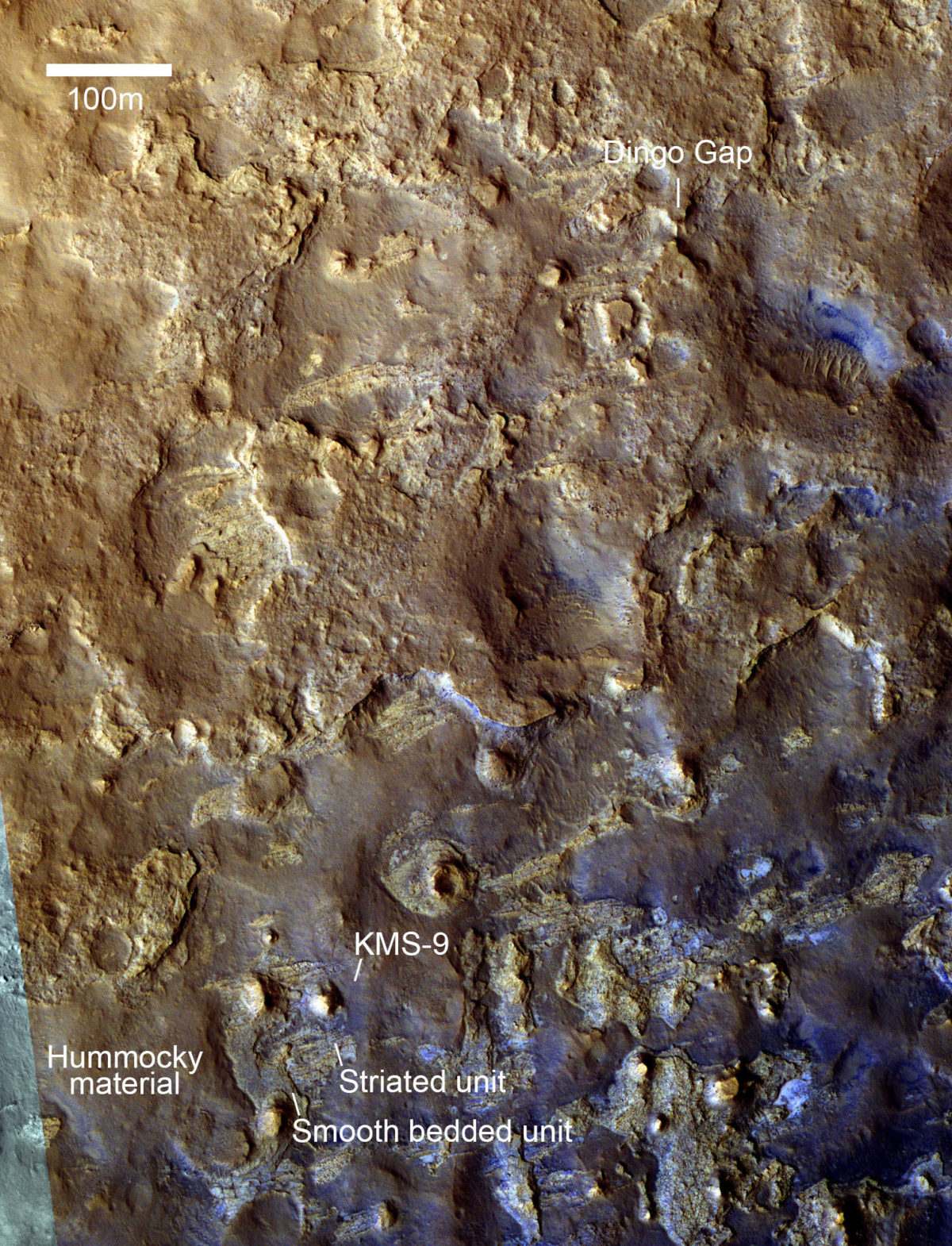 They described KMS-9 in an image released at the American Geophysical Union meeting in December. They talked about similarities between KMS-9 and Yellowknife Bay. At KMS-9 they pointed out a "lowermost striated unit," in a position similar to the Sheepbed mudstone from Yellowknife Bay. On top of it lies a non-striated but still bedded unit, analagous to the position of the Gillespie Lake, sandier stuff. And above that is hummocky material. It might look something like this view from the Cumberland drill site. They reported at the AGU meeting that the process of scarp retreat might have exposed some Sheepbed Mudstone very recently indeed, within the last million years; so it's a high priority for them to find another place with a retreating scarp and drill very close to the scarp, because that's where they'll maximize the possibility of finding organic materials preserved in rocks, exposed recently enough that they won't have been broken down yet. That's one thing they'd be looking for at those retreating scarps at KMS-9.
Actually, you can see that "lowermost striated unit" cropping out in spots all over the place in the HiRISE image above; it has a characteristic lighter color and east-west striation. There's even some of that stuff just ahead and to the left of Curiosity's view through Dingo Gap. It's the light-colored stuff to the left of the prominent circle-topped mesa down the valley in the panoramic view (I'll repeat the panorama here, so you can see what I'm talking about).

They apparently haven't decided yet whether to cross the dune and enter the valley beyond Dingo Gap, or to turn around and head to KMS-9 across higher ground to the south. Images have come down from sol 529 that show they didn't move after sol 528. The weekend is coming up, so they won't drive on sol 530 (there'll be targeted science on that day), but we should see a drive on sol 531 or 532. Will they commit to the valley? Or turn to the south? Wait and see!
There is one very cool thing to look forward to in the sol 529 plan, according to Ken Herkenhoff: "After sunset, Mastcam will take a picture of Earth, currently an 'evening star' in Mars' sky." I'll check for that over the weekend!
You are Part of LightSail's Legacy
Let's share the story and success of LightSail® - help secure LightSail's legacy!
Donate Today