Blog Archive

The Discovery of a Planet, Part 2: Out of the Six-Planet World
Posted by Amir Alexander on 2005/02/13 11:00 CST
Since humans first set their eyes to the stars, they noticed that a few of these bright objects behaved differently from the others. Whereas all the stars moved together, revolving around the Earth once every 24 hours, five appeared to move within the firmament among the other stars. Accordingly, they were named "planets," meaning "wanderers" in Greek.

The Discovery of a Planet, Part 1: The Blinking Image
Posted by Amir Alexander on 2005/02/12 11:00 CST
February 18, 1930, was a cloudy day at the Lowell Observatory, on top of Mars Hill in Flagstaff, Arizona. 22 year old Clyde Tombaugh was hard at work, peering through the lens of an ancient-looking brass-colored device. The instrument, known as a "blink comparator," mounted two large photographic plates.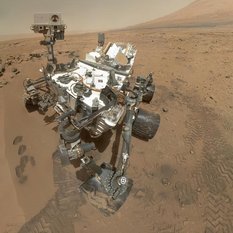 Our Curiosity Knows No Bounds!
Become a member of The Planetary Society and together we will create the future of space exploration.
Travel to Bennu on the OSIRIS-REx spacecraft!
Let's invent the future together!