Blog Archive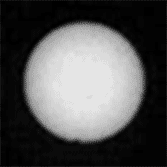 Mars Exploration Rovers Update: Opportunity Finds Thrill of Newberries on Matijevic Hill
Posted by A.J.S. Rayl on 2012/10/03 01:58 CDT | 1 comments
On reconnaissance of Matijevic Hill, Opportunity has driven right into another Martian mystery, compete with new kinds of "berries," tiny white veins running through two distinctive outcrops of rock, and orbital data indicating that somewhere here clay minerals are hiding, all of which has put the Mars Exploration Rover (MER) mission back in the science spotlight and made for another September to remember at Meridiani Planum.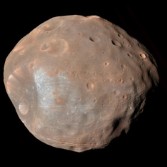 Notes from the Lunar and Planetary Science Conference: A little bit of Phobos and Deimos
Posted by Emily Lakdawalla on 2012/03/22 12:04 CDT | 3 comments
I just sat in the "small bodies" session at the Lunar and Planetary Science Conference, listening to three talks about Phobos. The first was by Abby Fraeman, who looked at data on Phobos and Deimos from the two imaging spectrometers in orbit at Mars. The next talk, by L. Chappaz, was motivated by Phobos-Grunt's mission. It asked: if you grabbed 200 grams of soil from the surface of Phobos, how much of that material would actually have originated on Mars? Then there was a particularly interesting talk that dealt with the question of how Phobos' grooves formed.
They are Watching the Skies for You!
Our researchers, worldwide, do absolutely critical work.

Asteroid 2012DA14 was a close one.
It missed us. But there are more out there.
Send your name and message on Hayabusa-2.
Let's invent the future together!