Blog Archive
Posted by Emily Lakdawalla on 2011/05/02 11:26 CDT
Space.com has taken advantage of the infinitely scrollable nature of Web pages to produce a really cool infographic on the scales of orbital distances in the solar system.

So far, no moons found at Ceres or Vesta
Posted by Emily Lakdawalla on 2011/04/15 02:37 CDT
Since the Galileo mission discovered tiny Dactyl circling Ida in 1993, quite a lot of asteroid systems have been found to be binary; there are even a few triples. So it's quite reasonable to guess that two of the biggest asteroids, Ceres and Vesta, might also have satellites.

LPSC 2011: Day 1: Small bodies
Posted by Emily Lakdawalla on 2011/03/08 12:28 CST
Here are some of the noteworthy items from the morning's session on "Small Bodies: A Traverse from NEOs to TNOs" and the afternoon's session on "Asteroid Geophysics and Processes: Surfaces and Interiors."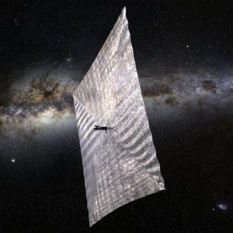 In 2016, The Planetary Society's LightSail program will take the technology a step further.

Pretty pictures and
awe-inspiring science.
Let's invent the future together!