The Planetary Society Welcomes Brendan Curry to Lead Washington Operations
For Immediate Release
November 19, 2018
Contact
Danielle Gunn
Email: [email protected]
Phone: +1-626-793-5100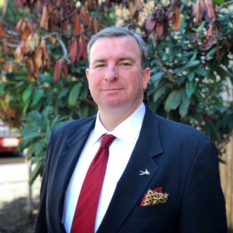 Pasadena, Calif. (November 19, 2018) — The Planetary Society, the world's largest independent, non-profit space interest organization, announced the appointment of Brendan Curry as Chief of Washington Operations.
"Almost everything on The Planetary Society agenda involves the Federal government at some level. From supporting NASA's budget requests, to raising the visibility of planetary defense, to giving continuing high priority to solar system exploration and the search for life in the universe, positive government decisions are essential," said John Logsdon, Professor Emeritus of Political Science and International Affairs at George Washington University's Elliott School of International Affairs and Planetary Society Board of Directors member. "Having Brendan Curry in this key role will greatly increase our influence on issues of highest concern to the Society's members."
Mr. Curry will bring nearly twenty years of space policy experience to the new role. Prior to joining The Planetary Society, Mr. Curry served as Vice President of Washington Operations at the Space Foundation. In this high profile position, he interfaced with industry executives, officials in the White House, NASA, the Department of Defense, the National Reconnaissance Office, the State Department, Commerce Department and others officials in the Executive Branch departments. He continues to work with Congress as well as international space officials from Germany, the United Kingdom, France, Japan, Russia, and China. Mr. Curry routinely speaks in public forums and with news media outlets.
Casey Dreier, previously the Director of Space Policy for The Planetary Society, will move into the newly-created role of Chief Advocate and Senior Space Policy Adviser for the organization.
"Brendan is a great fit for The Planetary Society," said Dreier. "He brings a wealth of professional experience and personal passion to this role, and I am excited to work with him to grow The Society's advocacy and policy efforts."
"I'm excited about The Planetary Society's mission to support and encourage planetary exploration and science, planetary defense and the search for life elsewhere in the universe," Mr. Curry said. "I look forward to ensuring The Planetary Society and our passionate member base can be a helpful contributor to space policy discussions and decisions happening here in Washington."
Born and raised in Pennsylvania, Brendan has been a life-long space enthusiast. He holds a law degree from Penn State and a bachelor's degree from the University of Scranton.
About The Planetary Society
With a global community of more than 2 million space enthusiasts, The Planetary Society is the world's largest and most influential space advocacy organization. Founded in 1980 by Carl Sagan, Bruce Murray, and Louis Friedman and today led by CEO Bill Nye, we empower the public to take a meaningful role in advancing space exploration through advocacy, education outreach, scientific innovation, and global collaboration. Together with our members and supporters, we're on a mission to explore worlds, find life off Earth, and protect our planet from dangerous asteroids. To learn more, visit www.planetary.org.
###