Visions of Mars: The Stories
On May 25, 2008, Visions of Mars landed on Mars on board the spacecraft Phoenix, in a mini-dvd provided by The Planetary Society. Personal greetings by space visionaries of our time to Mars settlers of the future , are accompanied by 80 stories and articles by leading writers and scientists. A collection of Mars artwork, and classic radio shows narrated by Patrick Stewart, complete this unique tapestry of our knowledge and our dreams of Mars in the 20th century.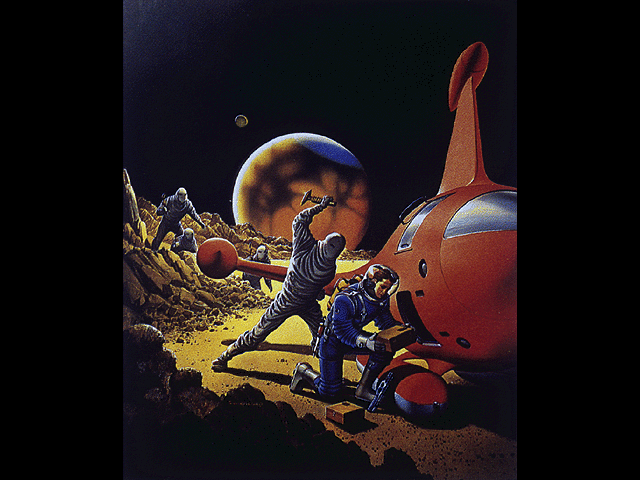 Below is a complete list of texts included in Visions of Mars, this unprecedented message to the future. The authors are extraordinarily diverse, include renown science fiction writers such as Arthur Clarke and Ray Bradbury, Enlightenment wits such as Jonathan Swift and Voltaire, modern philosophers such as Bertrand Russell and Umberto Eco, and many many others. They, along with the participating artists, represent 22 different nationalities and cultures including the United States, Canada, the U.K., Russia, France, Germany, Japan, Syria, Israel, Finland, Korea, China, Thailand, India, Armenia, Greece, Netherlands, Argentina, Switzerland, Italy, Babylonian culture, and Innuit culture.
Along with this priceless collection of the words and writings, the Phoenix DVD also carries the names of all Planetary Society members, as well as others who signed up on the Society website.
Visions of Mars: The Texts

Author

Title

Date

Abe Kobo
The Special Envoy

Aitmatov, Chingiz

The Day Lasts More than 100 years

1983

Aldiss, Brian

The Difficulties of Photographing Nix Olympica

1986

Anderson, Poul

The Martian Crown Jewels

1958

Aramaki Yoshio
Soft Clocks

Arnold, Edwin L.

Gulliver of Mars (excerpt)

1905

Ash, Fenton

A Trip to Mars (excerpt)

1909

Asimov, Isaac

I'm in Marsport Without Hilda

1957

Asimov, Isaac

The Martian Way

1952

Asimov, Isaac

The Romance of Mars (excerpt)

1971

Bear, Greg

A Martian Ricorso

1976

Ballard, J.G.

The Time Bomb

1963

Benford, Gregory

All the Beer on Mars

1988

Binder, Eando

Via Etherline

1937

Bogdanov, Alexander

Red Star

1908

Bova, Ben

Mars

1993

Brackett, Leigh

2038: The Road to Sinharat

1963

Bradbury, Ray

The Martian Chronicles

1950

Brown, Fredric

The Last Martian

1950

Burroughs, E.R.

A Princess of Mars (excerpt)

1917

Clarke, Arthur C.

Transit of Earth

1951

Clarke, Arthur C.

The Sands of Mars

1951

Delany, Samuel

High Weir

1968

Derleth, August

The Martian Artifact

1957

Dick, Philip K.

We Can Remember It for You Wholesale

1966

Dick, Steven

Back to the Future

1993

Disch, Thomas

The Brave Little Toaster Goes to Mars (excerpt)

1988

Dorsey, Candas Jane

Johnny Appleseed on the New World

1985

Dunsany, Lord

Mars on the Ether

1937

Eco, Umberto

I tre cosmonauti

1989

Fast, Howard

The Martian Shop

1959

Friedman, Louis
Afterword to Visions of Mars
1996

Gallun, Raymond Z.

Old Faithful

1934

Greg, Percy

Across the Zodiac (excerpt)

1880

Harrison, Harry

One Step from Earth

1970

Hillegas, Mark R.

Martians and Mythmakers: 1877-1938

1970

Hoyle, Fred

The Martians

1967

Ishikawa Takashi
The Road to the Sea

Kazantsev, Alexander

The Martian

1962

Kazantsev, Alexander

A Visitor from Outer Space

1962

Kline, Otis Adelbert

The Swordsman of Mars (excerpt)

1933

Koch, Howard

The Panic Broadcast

1970

Lasswitz, Kurd

Auf Zwei Planeten (excerpt)

1897

Le Rouge, Gustave

Le prisonnier de la planet Mars

1908

Lowell, Percival

Mars as the Abode of Life (excerpt)

1909

McDonald, Ian

The Catharine Wheel

1983

Merril, J. Kornbluth C.

Outpost Mars

1952

Miller, P. Schuyler

The Cave

1934

Mitsuse Ryu
The Sunset, 2217 A.D.

Moorcock, Michael

Mars

1988

Moore, C.L.

Dust of Gods

1934

Newman, Kim

Famous Monsters

1988

Niven, Larry

The Hole Man

1973

Owen, Tobias

Science versus Fiction

1993

Piper, H. Beam

Omnilingual

1957

Pohl, Frederik

The Martian Star-Gazers

1962

Pope, Gustavus W.

Journey to Mars (excerpt)

1894

Robinson, Kim Stanley

Green Mars

1985

Rosny, J. Heinz

Les navigateurs de l'infini

1925

Russell, Bertrand

Planetary Effulgence

1961

Sagan, Carl

Cosmos (excerpt)

1980

Schiaparelli, Giovanni

Report on Canali

1877

Serviss, Garrett P.

Edison's Conquest on Mars

1898

Shklovskii, Iosef

Are the Moons of Mars Artificial Satellites?

1966

Simak, Clifford

Hermit of Mars

1939

Sinisalo, Johanna

PunatShti

1990

Stapledon, Olaf

Last and First Men (exerpt)

1930

Steele, Allen

Live from Mars Hotel

1988

Stoff, Joshua

The Voyage of the Ruslan

1986

Strugatsky, A. & B.

The Second Invasion from Mars

1979

Sturgeon, Theodore

The Man Who Lost the Sea

1959

Sturgeon, Theodore

The Martian and the Moron

1949

Swift, Jonathan

Gulliver's Travel

1726

Tolstoi, Alexei

Aelita

1922

Van Vogt, A.E.

Enchanted Village

1950

Varley, John

In the Hall of the Martian Kings

1976

Voltaire

Micromegas

1752

Vonnegut, Kurt

The Sirens of Titan (excerpt)

1959

Watt-Evans, Lawrence

Windwagon Smith and the Martian

1989

Weinbaum, Stanley G.

A Martian Odyssey

1934

Wells, H.G.

The War of the Worlds (excerpt)

1889

Wicks, Mark

To Mars Via the Moon (excerpt)

1911

Williamson, Jack

Nonstop to Mars

1939

Zelazny, Roger

A Rose for Ecclesiastes

1963