Emily Lakdawalla • Jul 30, 2011
Phobos-Grunt and Yinghuo-1 have completed thermal vacuum testing
If you're ever looking for information on the status of a Russian mission, the place to go is Anatoly Zak's russianspaceweb.com. Browsing there this morning I was very happy to see that the Russian Phobos sample return mission, Phobos-Grunt, has passed a key milestone in its preparation for launch: it successfully completed its thermal vacuum testing in June. From the photos it appears that the Chinese Mars orbiter Yinghuo-1, which will hitch a ride on Phobos-Grunt to Mars orbit, then part ways with the Russian spacecraft, was stacked with Phobos-Grunt during this testing.
The thermal vacuum test is something that every spacecraft must undergo after it's completely assembled and before it launches. In the thermal vacuum test it is subjected to the conditions it'll encounter once it has launched and in space. The whole spacecraft is placed into a chamber from which all the air is sucked out, then it's cycled through the kinds of temperature extremes it'd experience at Earth and at Mars, and tested to make sure that all its systems function properly under space conditions.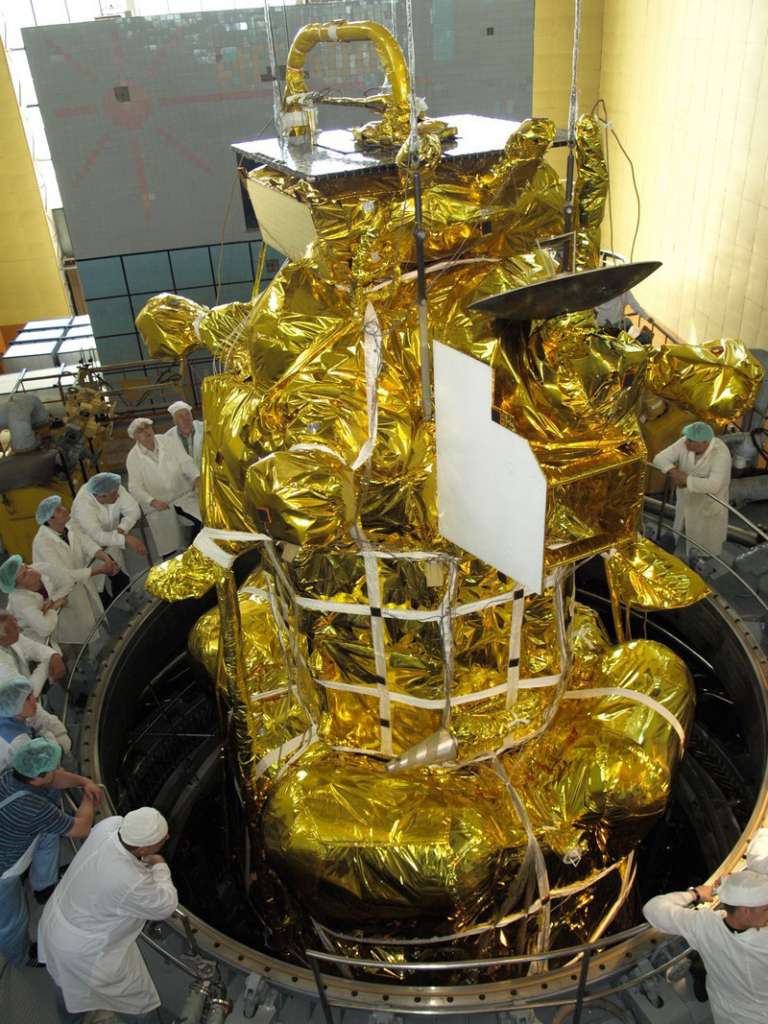 The Planetary Society's Phobos LIFE puck is inside the sample return capsule, which is the gold-wrapped disk sitting in the middle of the square solar array on top of the spacecraft.
It's sort of late in the game for Phobos-Grunt to be going through this testing, but Zak explains on his website that the testing was delayed because of late delivery of electronics and radio testing. Tests of those systems had to be completed before the spacecraft could be fully assembled. The thermal vacuum test was conducted from June 6 to 20, and the spacecraft has now been shipped back to its assembly facility.
When is it going to launch? According to Zak: "During the Spektr-R launch campaign in the middle of July 2011, the head of NPO Lavochkin, Viktor Khartov, told reporters that the Phobos-Grunt spacecraft would be delivered to Baikonur [Russia's launch facility] at the end of September 2011, with its launch scheduled for Nov. 3-5, 2011." Now that I've seen an assembled spacecraft and that I actually have a somewhat official launch date to report, I'll add Phobos-Grunt and Yinghuo-1 to my monthly "what's up" roundup. Stay tuned for that!
There are more pictures on Lavochkin's news page but for some reason the Cyrillic characters are not displaying properly for me on that page, so I can't run the text through Google Translate, so I can only guess what they show. Most of the photos on that page are of the Spektr-R space radio telescope, but a few are of Phobos-Grunt. I believe that the photo below, dated June 27, is a picture of Phobos-Grunt in its shipping container, having arrived at its assembly facility after thermal vacuum testing. Note that the Chinese Yinghuo-1 orbiter is stacked underneath Phobos-Grunt -- you can see its dish and solar panels. This differs from earlier concepts I've seen that show Yinghuo-1 stacked on top of Phobos-Grunt. Comparing it to the thermal vac photos, you can see the same octagonal frame, wrapped in thermal blanketing, stacked underneath the Phobos-Grunt landing legs; under that is presumably the rocket engine that will fire to insert Phobos-Grunt and Yinghuo-1 into Mars orbit.
For comparison, here's an artist's concept of the spacecraft in its cruise configuration:
And here's a picture of the spacecraft fully integrated but without thermal blanketing, as it appeared in October 2009, just for comparison's sake.
You are Part of LightSail's Legacy
Let's share the story and success of LightSail® - help secure LightSail's legacy!
Donate Today