Ken Kremer • Nov 18, 2009
Atlantis Rockets to Orbit on crucial ISS resupply flight
Planetary Society volunteer Ken Kremer is reporting for us from the Kennedy Space Center, where he watched the launch of Space Shuttle Atlantis on Monday, November 16. Kremer is a research scientist and freelance journalist who spends his spare time giving public outreach presentations on behalf of The Planetary Society as a volunteer and NASA's Jet Propulsion Laboratory as a Solar System Ambassador. He also enjoys creating Mars mosaics. Thanks Ken! --ESL
Space Shuttle Atlantis and her crew of six rocketed into orbit on Monday (November 16) precisely as planned at 2:28 PM EST from the Kennedy Space Center (KSC) in Florida. Atlantis ascended off the pad on 7 million pounds of liftoff thrust from the combined might of the twin solid rocket boosters and three space shuttle main engines. She quickly rotated about, leaving behind a wake of blazing exhaust flames, smoke and rumbling thunder which seemed to nearly engulf the shuttle in mid air moments after liftoff.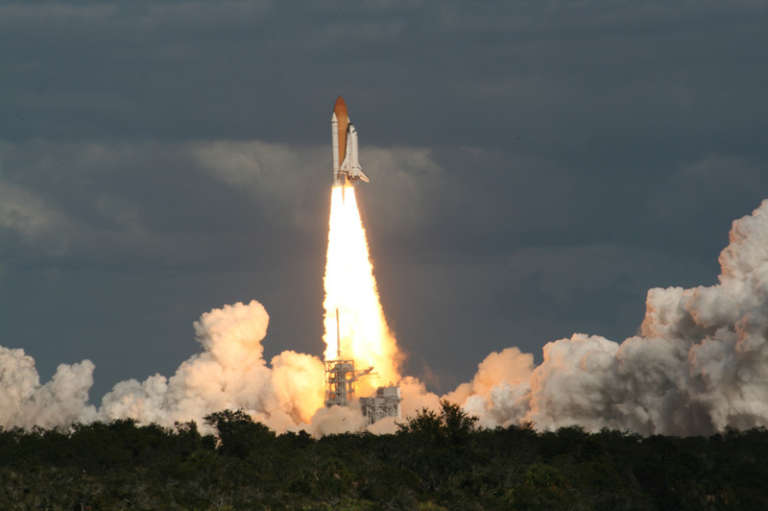 Atlantis arose swiftly and was visible to onlookers from the KSC press center for roughly three minutes as she accelerated in a northeasterly path up the east coast of the United States for her trek to the International Space Station (ISS). After a 2 day pursuit she will rendezvous and dock with the six person crew on board the station.
During the overnight hours, the weather had significantly deteriorated and the earlier forecast of 90% favorable had been obliterated by the onset of thick clouds which threatened to scrub the launch. Luckily the clouds dissipated as the appointed blast off time approached. The launch window spans a mere 10 minutes in length.
Atlantis punched into space through the remaining wispy clouds to the delight of onlookers at the KSC press site including me. For the first time ever, NASA invited over 100 tweeters into the press site in a social networking experiment to bring the thrill of space exploration and a shuttle launch to a broader range of the public. I was quite impressed with the hi tech setup inside the tweeters tent located adjacent to the iconic Vehicle Assembly Building (VAB).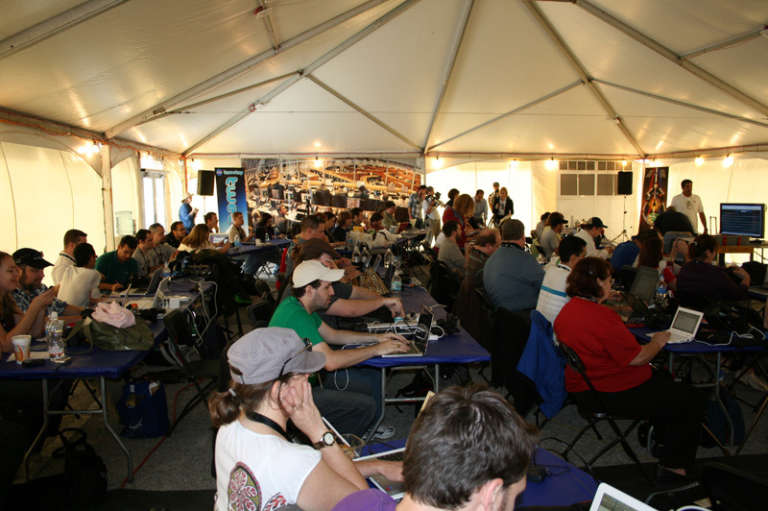 STS 129 is carrying almost 30,000 pounds of spare parts and back-up equipment known as Orbital Replacement Units, or ORU's. The planned 11 day flight includes 3 spacewalks (or EVA's) to install the ORU's onto the exterior structure of the ISS ahead of the looming retirement date of the shuttle planned for September 2010 or soon thereafter. The Space Shuttle is the only vehicle which can carry these types of bulky equipment to the ISS. This unique capability will be lost for decades to come after the 5 remaining shuttle flights are completed.
The STS-129 crew members are Commander Charles O. Hobaugh; Pilot Barry E. Wilmore; and Mission Specialists Leland Melvin, Randy Bresnik, Mike Foreman and Robert L. Satcher Jr. Station resident Nicole Stott will be on board when Atlantis returns, increasing the crew size to seven. Stott spent over 2 month conducting scientific research on the ISS.
Support Our Core Enterprises
Your support powers our mission to explore worlds, find life, and defend Earth. Tomorrow's discoveries begin today.
Donate