Jason Davis • Dec 02, 2015
Preview: Cygnus to Resume ISS Cargo Runs with Help from Atlas V Rocket
In September 2013, an Antares rocket blasted off from the Mid-Atlantic Regional Spaceport on Wallops Island, Virginia, carrying the first Cygnus cargo spacecraft to the International Space Station. Cameras aboard the rocket showed a beautiful view of the coastline receding in the distance.
"Antares is making its second flight," said a launch commentator on NASA TV. "On this mission, we're sending Cygnus on its first journey of many to the International Space Station."
Those journeys, of course, were all supposed to take place aboard Antares rockets. Orbital Sciences Corporation—in its pre-merger days before becoming Orbital ATK—got off to a good start, successfully completing one Cygnus demo flight and two paid follow-ups. Then, on October 28, 2014, an Antares rocket suffered an engine failure seconds after liftoff. The launch vehicle, along with the fourth Cygnus spacecraft, fell back to Earth and exploded on the launch pad.
Antares has been grounded ever since, and won't return to duty until next year. Its dual, Soviet-built AJ26-62 engines are being replaced with modern Russian RD-181s.
But Cygnus doesn't have to wait—it's versatile enough to fly on other rockets. NASA could use the extra cargo capacity, while Orbital ATK needs to fulfill its contractural duties as a space station supplier. The company turned to United Launch Alliance for help. In just eight months, ULA built a payload adapter to attach Cygnus to its stalwart Atlas V rocket.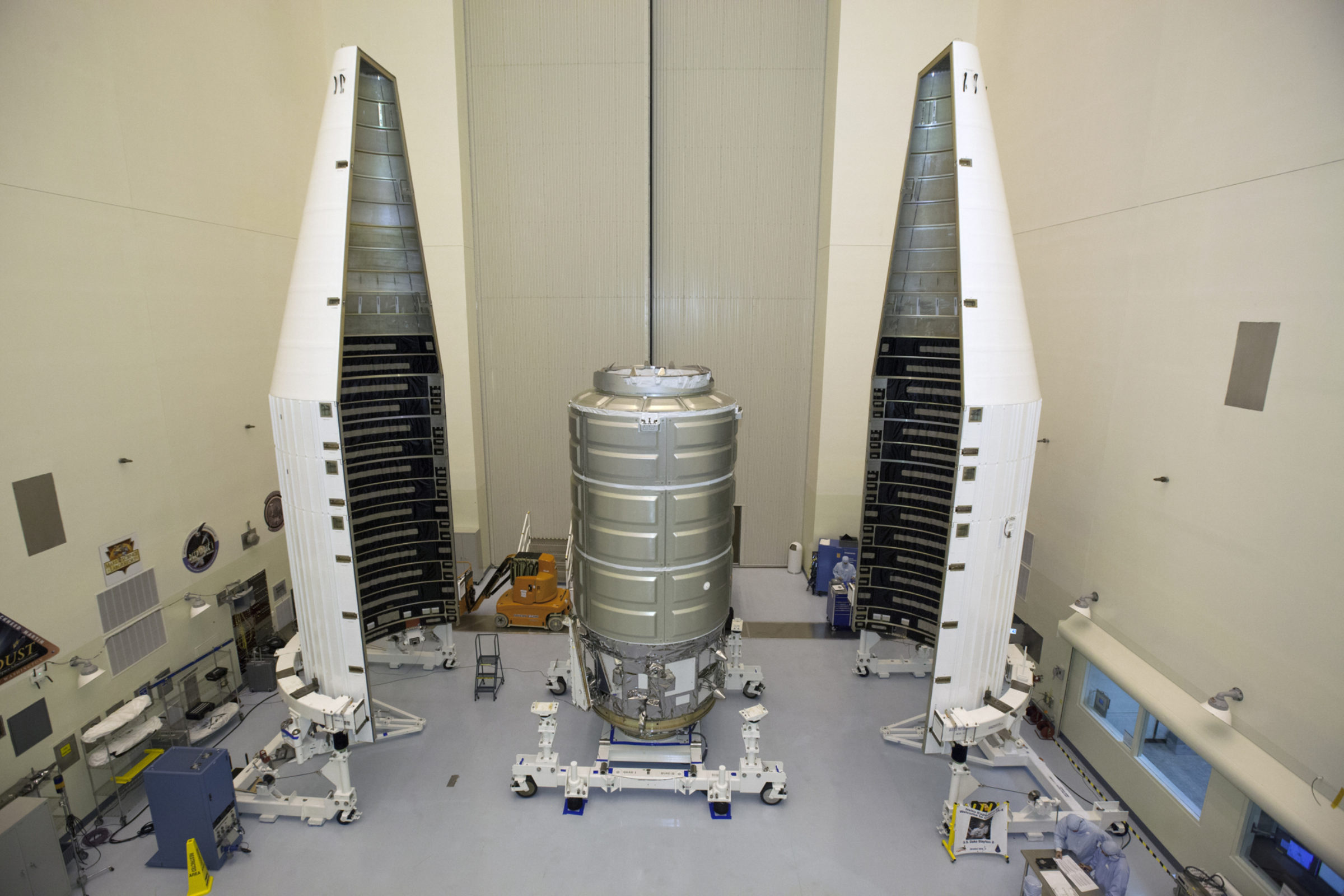 Orbital ATK, meanwhile, wrapped up work on a new, larger version of Cygnus, which now comes with 27 cubic meters of pressurized cargo space—enough to carry 25 percent more payload mass. The enchanced Cygnus also sports upgraded, circular solar arrays. During a NASA Advisory Council meeting on December 1, William Gerstenmaier, NASA's associate administrator for human spaceflight, said because the mission has a short lifespan, NASA is allowing Orbital ATK to be aggressive in testing out the new solar arrays.
"They're a much better power source than the current fold-up arrays," Gerstenmaier said. "Because you can take some risk with cargo missions, you can fly some new technology that is not of the full level of maturity that you would like to fly when you're committed to a dedicated spacecraft that's going to be up for multiple decades."
Gerstenmaier said the spacecraft's solar arrays would not start deploying until about an hour after Cygnus separates from the Atlas V, unlike similar vehicles that begin the deployment sequence almost immediately. The deployment itself is expected to take between 30 and 60 minutes. Cygnus will run on battery power until then, and has between 12 and 14 hours of power reserves in the event of a problem.
The Cygnus lost in last year's explosion was named the S.S. Deke Slayton; each Cygnus honors a deceased astronaut. In November, Orbital ATK christened the new vehicle the S.S. Deke Slayton II, trying once more to salute one of NASA's original seven astronauts.
On November 20, the new Cygnus, buttoned up inside its payload fairing, made its way out to Space Launch Complex 41 at Cape Canaveral Air Force Station. There, it joined the rest of the launch vehicle, which will roll out to the pad Wednesday morning. Liftoff is scheduled for Thursday, Dec. 3 at 5:55 p.m. EST (21:55 UTC). NASA TV coverage begins at 4:30 p.m. The launch window lasts 30 minutes, owing to a surplus of power in the Atlas V over Antares. The rockets are in vastly different power classes—even though the Atlas is flying in its stripped-down configuration, the 401 (4-meter payload fairing, zero solid rocket boosters and a single-engine Centaur upper stage).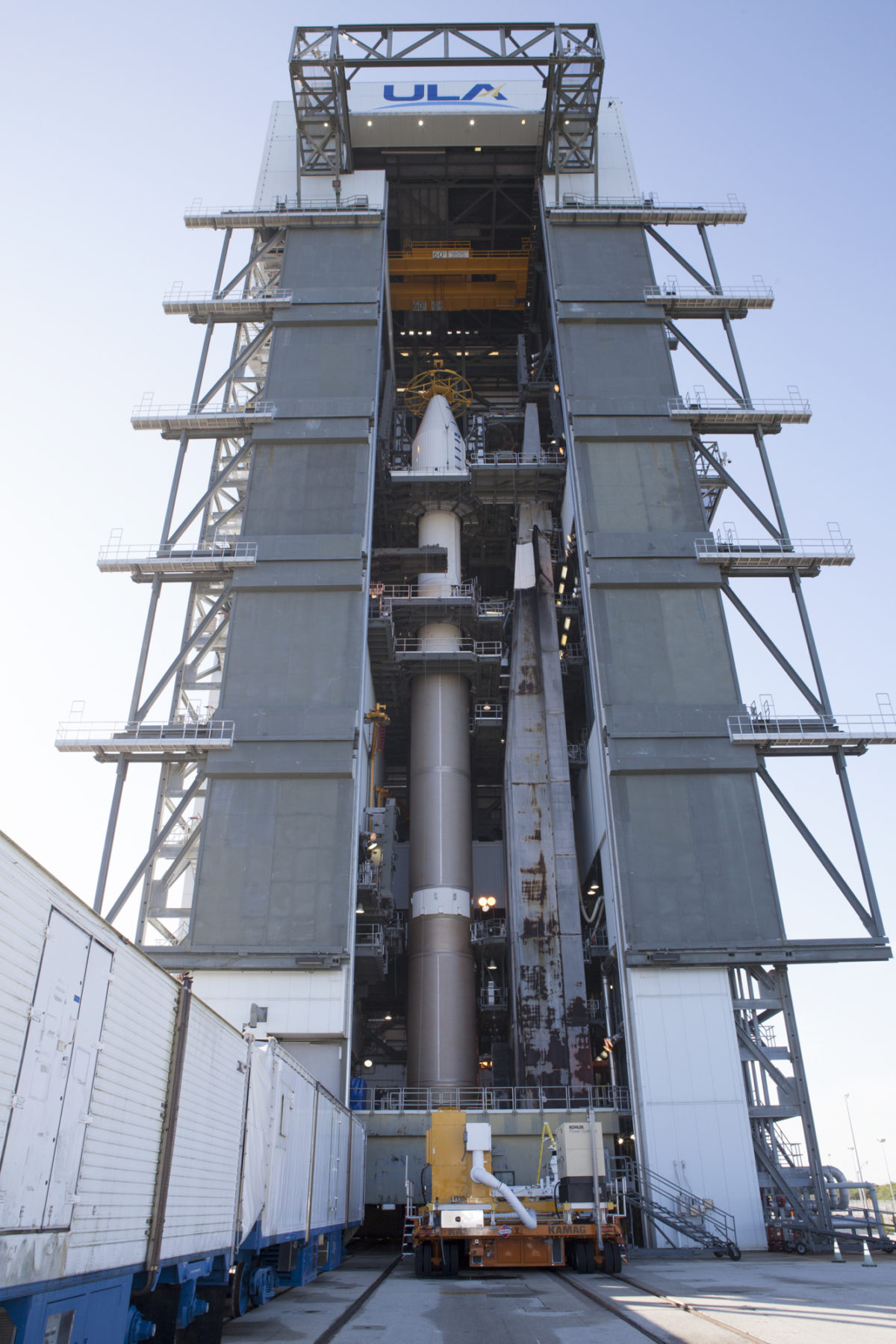 If launch happens on time, Cygnus and its 3.3 metric tons of cargo will arrive at the station Sunday, December 6. NASA astronauts Kjell Lindgren and Scott Kelly will grab Cygnus with the station's robotic Canadarm at 5:30 a.m. EST. In a change from previous cargo flights, Cygnus will be installed on the Earth-facing port of Unity, which sits directly aft of Destiny, the U.S. laboratory, and Harmony, the station's forward multipurpose node. Until now, all of NASA's commercial cargo vehicles have berthed at the Earth-facing Harmony port. Kelly and Lindgren rerouted new power connections to Unity back in October.
Among the the supplies and equipment being delivered to the station is a safety jetpack astronauts can wear during spacewalks, as well as nitrogen and oxygen tanks for the station's air supply. New scientific deliveries include a temperature-controlled chamber for commercial life sciences research, an experiment to study how to better mix liquids and gases, and an investigation into how flame retardant materials work in microgravity.
Here's your Atlas V ascent timeline for the launch:
| | | |
| --- | --- | --- |
| Event | Time (s) | Time (mm:ss) |
| RD-180 engine ignition | -2.7 | -00:02.7 |
| Liftoff (thrust to weight > 1) | 1.1 | 00:01.1 |
| Begin pitch/yaw naneuver | 18.4 | 00:18.4 |
| Mach 1 | 82.6 | 01:22.6 |
| Maximum dynamic pressure | 93.8 | 01:33.8 |
| Atlas Booster Engine Cutoff (BECO) | 255.6 | 04:15.6 |
| Atlas booster/Centaur separation | 261.6 | 04:21.6 |
| Centaur Main Engine Start (MES-1) | 271.6 | 04:31.6 |
| Payload fairing jettison | 279.6 | 04:39.6 |
| Centaur First Main Engine Cutoff (MECO-1) | 1,096.7 | 18:16.7 |
| Cygnus separation | 1,265.7 | 21:05.7 |
Atlas V OA-4 Mission Profile Video: ULA
Cygnus will remain berthed to the ISS until January, when it will be stuffed with trash and sent back into Earth's atmosphere for destructive reentry.
Let's Explore More
Our time to take action for space is now! Give today to have your gift matched up to $75,000.
Donate