Jason Davis • Jul 18, 2013
J-2X: A Distant Dot Lights Up the Night
On Tuesday, NASA released new high-definition video of a June 26 nighttime J-2X engine test at Stennis Space Center in southern Mississippi. During the five and a half minute firing, the J-2X gimbaled, pivoting in multiple directions like it would during a real flight.
J-2X lights up the night NASA's J-2X engine unleashes its fury during a night test at Stennis Space Center on June 26, 2013.Video: NASA / SSC
The scene is spectacular. If you're like me, you tend to focus on what's coming out of the flame bucket: bright yellow and orange flames generating billowing clouds of steam from the sound suppression water system. But Bill Greene, the author of NASA's Liquid Rocket Engines Blog, sees the test from a different perspective. Greene is an engineer that works on the J-2X, so not surprisingly, he draws attention to an overlooked detail: the engine itself. He writes:
"…before your eyes there is the small yet piercing brightness of the engine nozzle exit that can just be seen on what you know to be deck 5 of the stand and, to the right, there are flashes of orange flame stabbing into the billowing exhaust clouds mounting to ten stories high, tinged rusty in the fluctuating shadows. It is like a bomb exploding continuously for eight minutes and yet the amazing thing, in incongruent fact so difficult to grasp as you are trying to absorb and appreciate the sensation is that the whole event is controlled and contained. You cannot believe that so much raw power can be expressed by what is only a distant dot within your field of vision."
Can you see what he's talking about? Look closely at the two lit floors of the test stand, and watch carefully at about 10 seconds into the video. The engine is but a tiny speck from this vantage point, yet solely responsible for the massive fireworks display. The J-2X will eventually power an Earth departure stage for the Space Launch System, sending humans into deep space.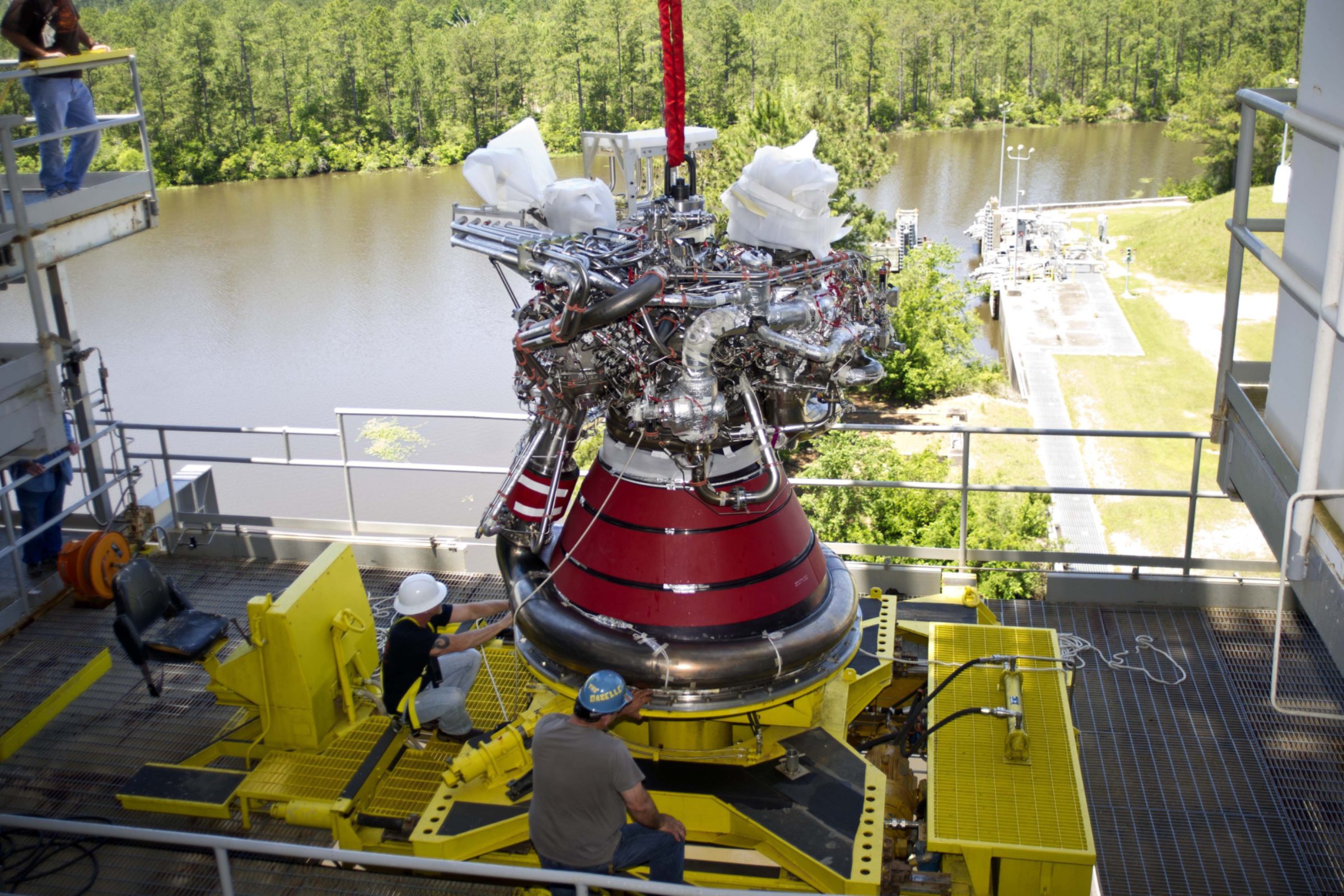 Here's a video from another J-2X test firing that took place on June 14. Crank up your speakers and set the resolution to 1080p. It's incredible to see the shock diamond in the exhaust, and the ice shaking loose from the propellant lines. Watch the engine gimbal back and forth, and imagine a spacecraft attached to the other end, hurtling humans away from our planet.
J-2X engine gimbal testing NASA's upper stage J-2X engine gimbals during a test firing at Stennis Space Center on June 14, 2013.Video: NASA / SSC
Support Our Core Enterprises
Your support powers our mission to explore worlds, find life, and defend Earth. Tomorrow's discoveries begin today.
Donate