Ken Kremer • May 25, 2009
Atlantis and Crew Return Safely to Earth after Rejuvenating Hubble
Space Shuttle Atlantis and her crew of 7 astronauts glided in to a smooth and triumphant touchdown today (Sunday May 24) at 11: 39 AM EDT at Edwards Air Force Base in California on runway 22 in the Mojave Desert. The high stakes flight of STS-125 completely renovated and rejuvenated the iconic Hubble Space Telescope and enables a new chapter of breathtaking, cutting edge science discoveries most of which we can only barely imagine today. Popularly known as 'The People's Telescope', Hubble is now at the "Apex of its Capabilities".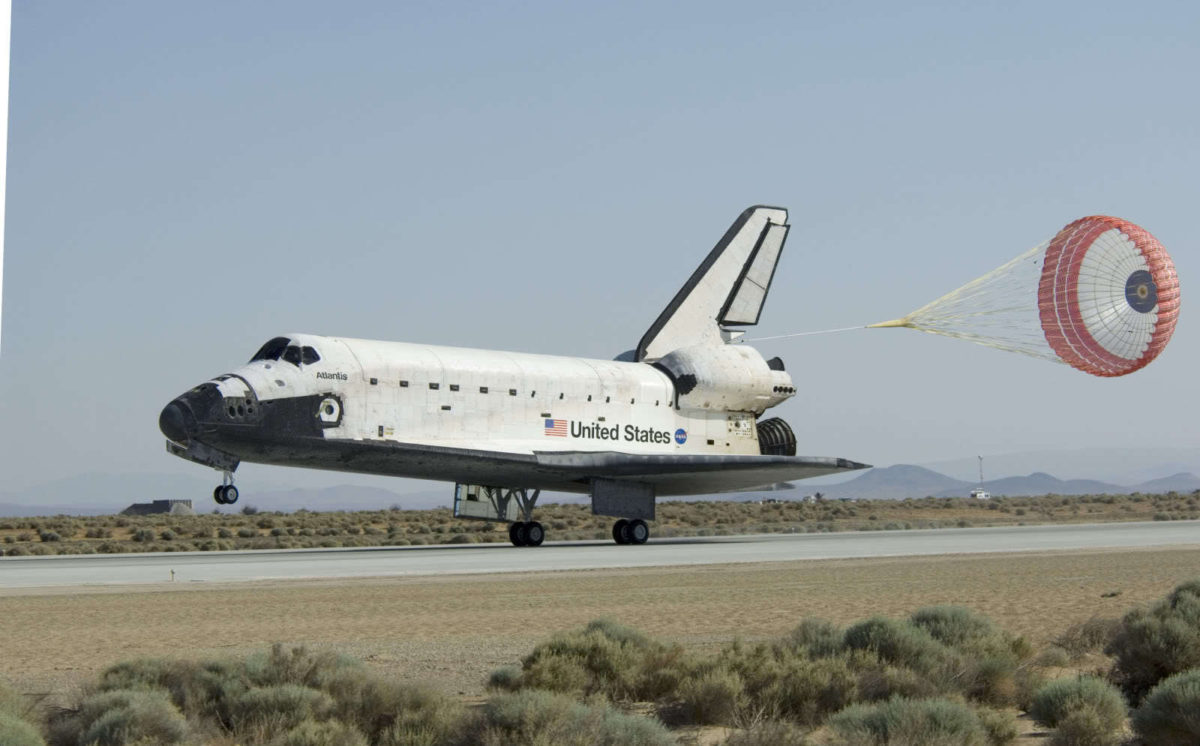 The landing had been delayed by two straight days of very poor weather at Cape Canaveral which improved only slightly today. To insure a safe landing, the NASA entry team led by Flight Director Norm Knight ordered a diversion in Atlantis return trip from the primary landing site at the Kennedy Space Center (KSC) to the alternate landing strip at Edwards AFB.
Ed Weiler, NASA's Associate Administrator for Space Science, told me in an interview shortly before landing that, "The mission is not truly successful until we see those 7 astronauts walking down the steps from the Atlantis onto the runway at KSC or Edwards, wherever they land in the next two days. I am at KSC and really hoping it's here so I can personally greet all seven of the women and men that made this mission a great success. Not only did they accomplish the routine stuff like gyros and new instruments... They accomplished the near impossible by fixing two instruments that were dead for years!"
STS-125 was the 6th shuttle mission involving Hubble which began with the delivery to space on April 24, 1990 by a crew including the newly nominated NASA Administrator and former astronaut Charles Bolden. The 13 day mission of STS-125 was the126th shuttle flight and concluded as the 5th and final servicing mission to Hubble.
At the post landing press briefing Weiler stated, "Now and only now can we declare this mission a total success. The astronauts are safely on the ground. When people ask, 'Why does Hubble have such a popular bent with the people of the United States'? Probably because it's the great American comeback story. We had the big problem [after launch] in 1990. Then we had the 'Miracle in Space' in 1993 and a long period of success".
"Well it just dawned on me that we've now entered the second chapter of the great American comeback story. This mission that was just completed successfully was canceled Jan. 16, 2004", Weiler recalled in reference to the Columbia tragedy and safety concerns. "If you'd have told me on that day I'd be sitting here five years later with a totally successful five EVA mission, with a brand new Hubble once again that will probably operate well into the third decade of its life, I wouldn't have bet you a penny. But Hubble is the great American comeback story, chapter two."
"Mike Griffin put the mission back into the cue on October 31, 2006 and of course the rest is history, starting now", Weiler added. The engineers and scientists at the NASA Goddard Space Flight Center and the Space Telescope Science Institute who control and operate Hubble, "are in the process of checking out the new instruments. Everything is going very smoothly, no problems so far".
"The calibration checks so far have gone beautifully. We don't anticipate any problems. We hope to meet our goal of getting the first new data by around the end of August".
"People have been waiting for years to execute the first observations with COS and WFC3 and the two dead instruments, ACS and STIS".
Musing about what he thought could actually be accomplished Weiler said, "These astronauts have this habit of doing more than we ever anticipated they could do. We got used to astronauts doing more than expected. But this was an especially difficult mission because we were not only putting in new equipment but also fixing equipment that was broken. And they did it! So, am I surprised? Well, I am happy they were able to do it all. But probably I was not surprised. John Grunsfeld was telling me about all the practice they were doing to work on ACS to accomplish everything. I thought ACS was impossible to fix. But John told me he could do it. And I believed it. He did make it look awfully easy, didn't he!".
"This was a truly great success. We are going to keep Hubble going until 2015 and maybe to 2017 and beyond."
"It was an emotional moment when we saw Hubble for the last time. But let's remember something about this being the last visit. We just repaired Hubble! We got a new telescope! 4 new instruments. 2 of them dead, now alive! We got another 5 to 8 years. These are truly the best of times, not the worst of times".
"This is not the end of the story but the beginning of another chapter of discovery by Hubble. Hubble will be more powerful than ever, continue to surprise, enlighten, and inspire us all and pave the way for the next generation of observatories", concluded Weiler.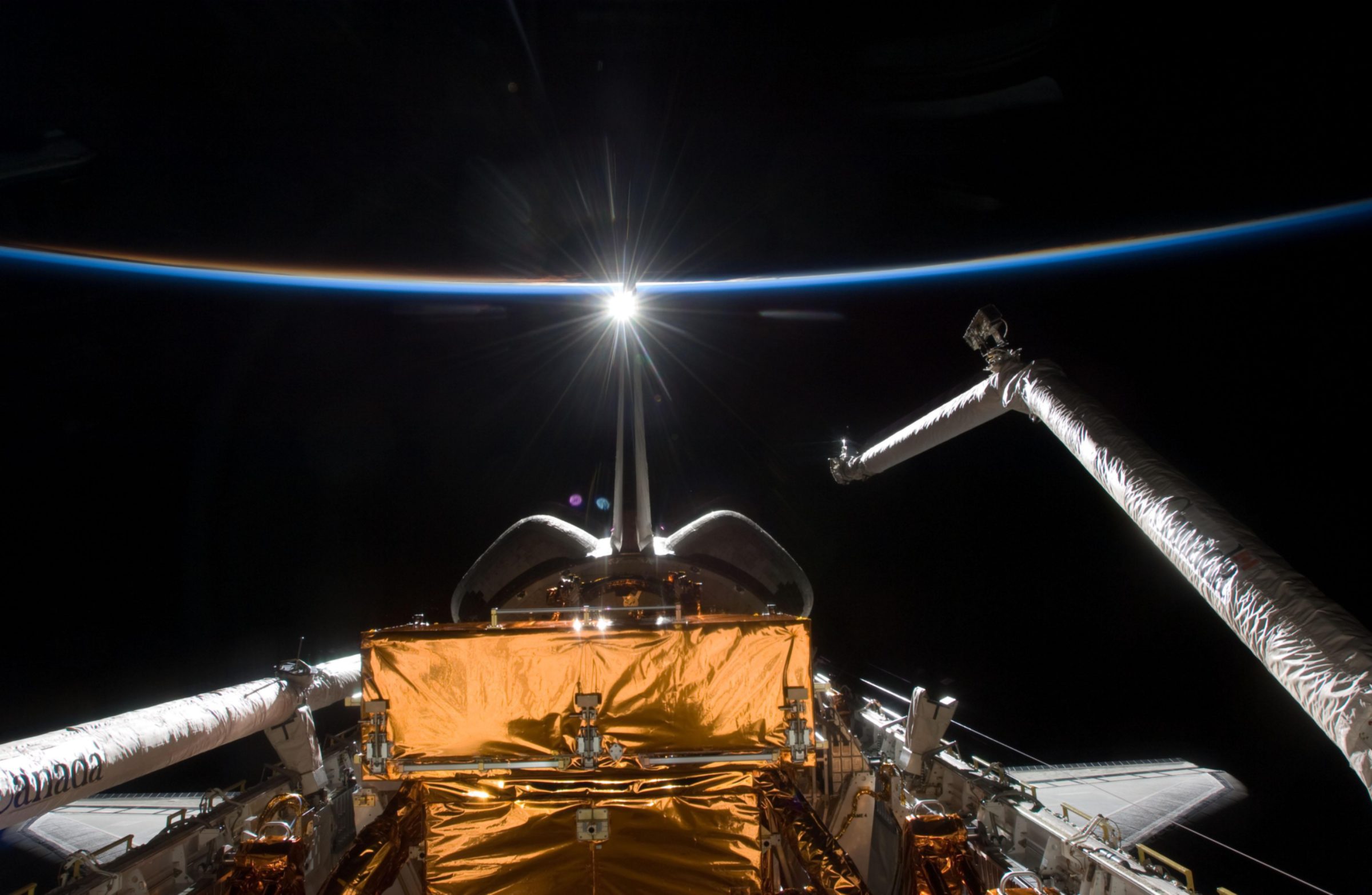 Mike Moses, KSC Director of Shuttle Integration said, "This was a fantastic mission. If you look at the back to back EVA's and the ease at which we pulled it off. We talked pre-flight about this being kind of a 'surgical repair' mission. And then you saw some of the brute force that was needed to rip a hand rail off that was needed to get at the surgery. So hopefully the doctors weren't paying too much attention to that".
Atlantis will be ferried back to KSC aboard a modified Boeing 747 jumbo jet to "get it back in the cue for its next mission" to the ISS said Moses. There is about a week of orbiter processing activities before the week long transcontinental ferry flight of Atlantis back from Edwards to KSC. Altantis' next flight is scheduled for November 2009.
There are now only eight missions remaining, all to the ISS, before the Space Shuttle is retired forever at the end of 2010. The Tranquility Node, which is to be last major piece of the ISS, just arrived at KSC a few days ago. "The ISS manifest remaining is just as hard as what we just accomplished. We are right back in the business of station assembly", Moses amplified.
NASA is targeting June 13 for the next flight of Endeavour on STS-127. Shuttle Launch director Mike Leinbach said that "Endeavour will be rolled around from Pad 39 B to Pad 39 A on next Friday night [May 29]". Endeavour will deliver a new station crew member and complete construction of the Japan Aerospace Exploration Agency's Kibo laboratory.
Since Endeavour has been on rescue stand-by, "much of the processing has already been completed". Leinbach added that, "The shuttle program is done with Pad 39 B after the roll-off of Endeavour", another consequence of the looming end of the Space Shuttle era as the transition to Project Constellation ramps up. Three more shuttle flights are planned for 2009. I observed the segments of the soon to launch Ares 1-X test rocket inside the VAB and will report on that soon.
The crew emerged about two hours after landing and gathered on the tarmac in front of Atlantis for the traditional walk around to inspect the vehicle and tiled underbelly after the orbiter had been 'sniffed' for hazardous vapors and 'safed' of toxic gases.
Shuttle Commander Scott Altman spoke for the entire crew and said, "When we got down to Florida, I looked at everyone and said 'At last'! I didn't realize it would be so hard to get back to the earth in the end. So again I guess I'll say the same thing. At last ! We are back on the ground. It's great to be at Edwards. It's awesome. We are all thrilled to have the mission complete. It was a testament to the teamwork and cooperation of folks all across the country. We want to express our thanks to everybody. We are thrilled to be here. Thank you so much".
Altman was joined by Pilot Gregory C. Johnson and Mission Specialists Megan McArthur, John Grunsfeld, Mike Massimino, Andrew Feustel and Michael Good. McArthur served as the flight engineer and lead for robotic arm operations. She plucked Hubble from space, placed it in the payload bay and maneuvered the precious cargo, equipment and astronauts around the payload bay with the Canadian built arm.
The four remaining mission specialists paired up for the 5 back to back grueling spacewalks on Hubble. They overcame unexpected difficulties. The astronauts plan to fly back to Houston today or tomorrow for family reunions and to be honored with a welcome home ceremony.
The astronauts successfully installed two new instruments and repaired two others, bringing them back to life, replaced gyroscopes and batteries, and added new thermal insulation panels to protect the orbiting observatory. The result is six working, complementary science instruments with new capabilities far beyond what was available and an extended operational lifespan until at least 2014.
Atlantis blasted off on May 11 and traveled more than 5.3 million miles during the STS-125 mission. The 13 day flight was the 30th for Atlantis. This was the 53rd landing at Edwards AFB.
"This mission highlights what the challenges of spaceflight can bring out in human beings," said Bill Gerstenmaier, associate administrator for Space Operations at NASA Headquarters in Washington. "This mission required the absolute best from the shuttle team, the Hubble science and repair teams, and the crew. The results are a tribute to the entire team and the years of preparation."
I've had a thrilling experience reporting directly from the Kennedy Space Center Press Center and Launch facilities to all of you on behalf of The Planetary Society on the STS-125 Hubble Servicing Mission and concurrent space exploration activities. Watch here for a few more reports.
Read updates from Ken Kremer at the launch site: › Farewell to Hubble, Obama Calls, Astronauts Testify to Congress as Shuttle is Set to Land › Hubble Astronauts Boldly Go Where No One has Gone Before! › LRO & LCROSS Up-Close Tour › Hubble Spacewalks: 2 Down, 3 to Go, Never Routine › Atlantis Astronauts Rocket into Space and Grab Hubble › One-on-One Chat with Ed Weiler on Hubble and the Future of Mars Exploration › Atlantis Launches on a Final Mission to Hubble › Fueling Atlantis! T Minus 6 Hours and Counting › Atlantis Exposed to the Heavens -- T Minus 14 Hours from Blast-off to Hubble › "Go" at T-2 days from launch -- Hubble Science Instruments Preview › Astronauts Fly into Cape. Countdown Clock Ticking for Mission to Save "The People's Telescope" ›NASA's Final Servicing Mission to the Hubble Space Telescope
You are Part of LightSail's Legacy
Let's share the story and success of LightSail® - help secure LightSail's legacy!
Donate Today