I'm a big fan of the geekily awkwardly smart web comic Saturday Morning Breakfast Cereal. So it was a thrill to get an email from author and artist Zach Weiner a little while back. The email was about -- well, I'll let him explain:
Zach asked me if I was willing to contribute a story for him to illustrate? Absolutely yes! And look, now I'm in cartoon form! This is the first panel in the story: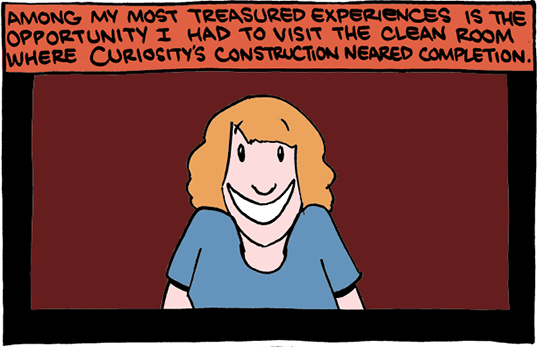 You will, obviously, have to buy the book in order to see the whole story. What other scientist/journalists are in there? So far, Phil Plait; Ed Yong; and Sean Carroll. There may be more, but he hasn't said who yet. That's because he's funding the production of the book with a Kickstarter project, and revealing clues about what's going to be in the book as he reaches fundraising milestones. Very, very tricky of him! It's working, too; he's raised more than $100,000 in 24 hours. You have to watch out for tricky people like that. Let's hope he's not secretly planning to use the money to build a doomsday device....
Seriously, if you like funny geeky science (and, I suppose I should add, if you aren't easily offended), support the project, and get a book.
Support Our Core Enterprises
Your support powers our mission to explore worlds, find life, and defend Earth. Tomorrow's discoveries begin today.
Donate