Blog Archive

Solar eclipses from space: Hinode and SDO
Posted by Emily Lakdawalla on 2011/01/06 11:33 CST
Two spacecraft that keep their ever-watchful eyes on the Sun -- NASA's Solar Dynamics Observatory (SDO) and JAXA's Hinode -- were doing their thing, when something large wandered past: the Moon.

A Martian Moment in Time, revisited
Posted by Emily Lakdawalla on 2010/05/12 02:30 CDT
A good start to my day today: The New York Times' Lens Blog featured the "Martian Moment in Time" photo that Opportunity took last week in a really nice writeup. I'm so grateful, and still a little surprised, that the folks on the Mars Exploration Rover mission took this idea and ran with it!

What's up in the solar system in January 2010
Posted by Emily Lakdawalla on 2010/01/04 01:29 CST
While we don't have Moon bases, we do have plenty of spacecraft. Before I get into my more detailed look at the activities of the 20-odd spacecraft wandering about the solar system, I thought I'd look ahead to 2010 more generally and see what the year has in store for us.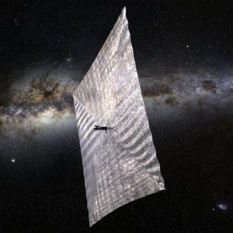 In 2016, The Planetary Society's LightSail program will take the technology a step further.

Pretty pictures and
awe-inspiring science.
Let's invent the future together!