Curiosity's skycrane maneuver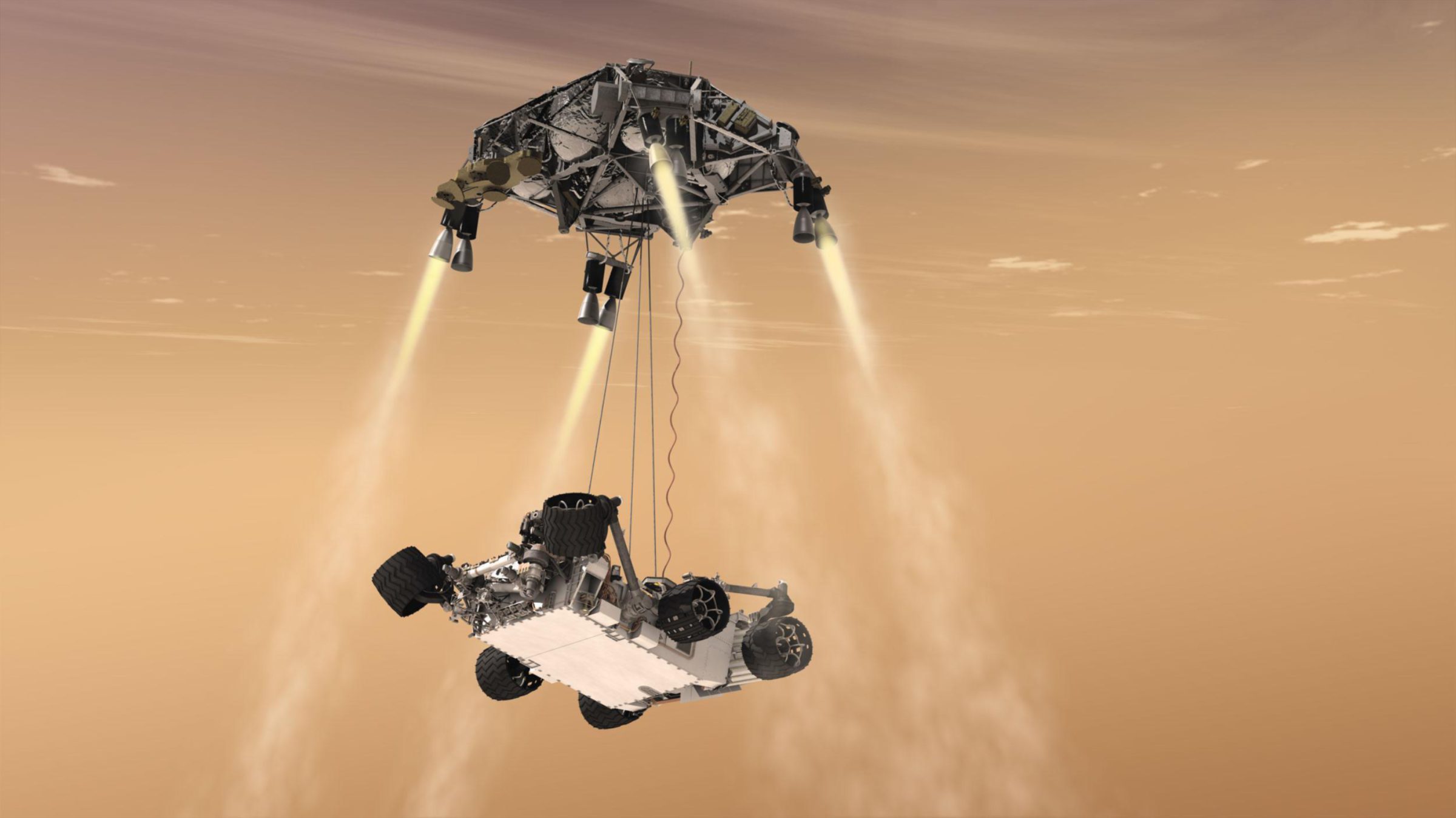 Entry, descent, and landing for Curiosity will include a combination of technologies inherited from past NASA Mars missions, as well as new ones. Instead of the familiar airbag landing systems of Mars Exploration Rover and Pathfinder, Curiosity will use a guided entry and a sky crane touchdown system to land the hyper-capable, massive rover.
The sheer size of Curiosity (over 900 kilograms) would preclude it from taking advantage of an airbag-assisted landing. Instead, Curiosity will use the sky crane touchdown system, which will be capable of delivering a much larger rover onto the surface. It will place the rover on its wheels, ready to begin its mission after thorough post-landing checkouts.
The new entry, descent and landing architecture, with its use of guided entry, will allow for more precision. Where the Mars Exploration Rovers could have landed anywhere within their respective 150 by 20 kilometer landing ellipses, Curiosity will land within a 7-by-20-kilometer ellipse! This high-precision delivery will open up more areas of Mars for exploration and potentially allow scientists to roam "virtually" where they have not been able to before.
In the depicted scene, the spacecraft's descent stage, while controlling its own rate of descent with four of its eight throttle-controllable rocket engines, has begun lowering Curiosity on a bridle. The rover is connected to the descent stage by three nylon tethers and by an umbilical providing a power and communication connection. The bridle will extend to full length, about 7.5 meters, as the descent stage continues descending vertically at a rate of 0.75 meters per second (about half of normal human walking speed). Seconds later, when touchdown is detected, the bridle is cut at the rover end, and the descent stage flies off to stay clear of the landing site.