Scott Maxwell • Jun 06, 2012
Notes from a Red Planet: Ray Bradbury
My personal memories of Ray Bradbury, originally posted on my blog on January 26, 2009. The video at the bottom of this post was filmed at the same event.

Thursday, January 15, 2009, was the official JPL celebration of the MER [Mars Exploration Rover]s' fifth anniversary -- five years into our three-month mission, and still counting. They had a very nice televised event in von Karman auditorium, with tribute videos and with former CNN science correspondent Miles O'Brien as the keynote speaker.

But the big surprise -- and treat -- was the special guest of honor, who turned out to be: Ray Bradbury. If there's one person in the world who really deserved to be there, one person who by his mere presence could have made it the perfect celebration, it was he. We barely let our project manager, John Callas, finish introducing him before we leapt to our feet and gave Bradbury a standing ovation.

Bradbury made some very amusing and poignant remarks. Including this: "I was the first Martian." I think he's earned that title. Yes, he was.

From the moment we realized he was there, fellow rover driver Ashley Stroupe and I had the same idea: we must give Ray Bradbury a tour of the MER ops area! The instant the event was over, we swam upstream against the exiting crowd, aiming for the front of the room. There was some confusion, but Ashley eventually managed to snag him. While Bradbury taped a short video of some kind, Ashley and I (and Callas and Squyres and Frank Hartman and John Wright) headed up to the MER ops area to set something up.

We weren't up there long before they wheeled him into the room. (I didn't realize this when we were in von Karman, by the way, but he has a documentary crew following him around these days, so the whole thing is on film.) Ashley and I hadn't worked out exactly what we were going to do; we both hesitated a moment, then I stepped up. I shook his hand, introduced myself and the others in the room, and led him over to our rover model.

"This is a full-scale model of the Spirit and Opportunity rovers," I began, as his assistant wheeled him up to it. He leaned back in his chair to look the rover in the eye, and his eyes grew bigger than its. "Oh, my," he said.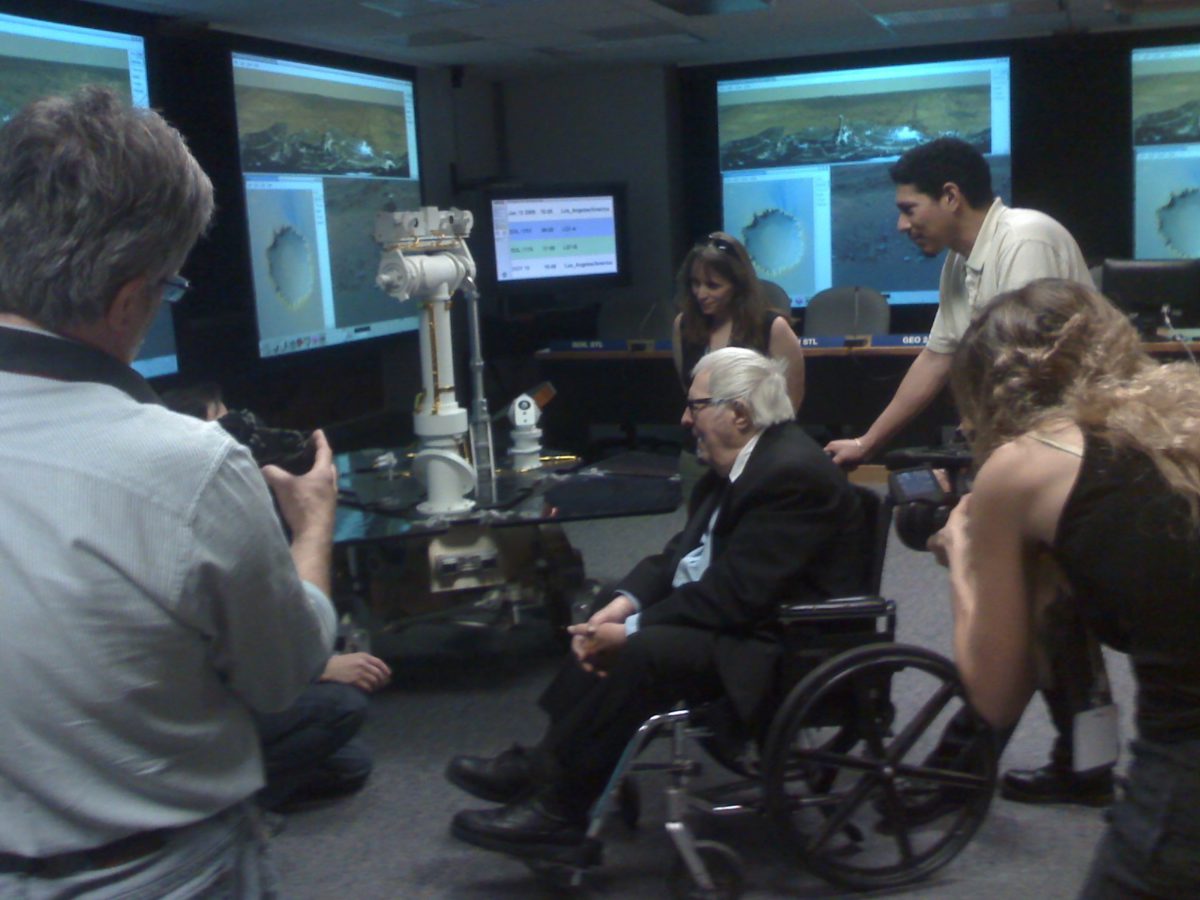 I did my usual spiel, talking about the rover's cameras, and how the solar panels folded up when it rode its spaceship to Mars, and describing how the various antennae work. As I knelt to show him the wheels I had a moment of inspiration. "Mr. Bradbury," I said, "I've read that you never learned to drive a car." (True: he says he's too distracted by ideas to be a safe driver.) "So I wonder if, before you leave, you'd like to try driving a Mars rover."

I turned him over to Ashley for a while; she showed him some of the pictures spread around the walls of the room, explaining where each of them was taken and what was significant about them. These just happen to be perfect for Bradbury: color panoramic images of Mars, taken from a human's perspective, but mounted close to a wheelchair-bound man's height. It must have seemed to him that he was, for the first time, really there. On the edge of a crater. On top of a mountain. On the plains, looking at the crashed remnants of the spaceship we rode there. On Mars.

I scrambled to get our rover-driving software set up, and then Bradbury's assistant wheeled him over. I explained what he was looking at -- a 3-D model of one small part of Mars, with a simulated rover in it -- and showed him basically how to drag the rover around in the model. We'd been warned that he was getting tired even before they showed up, and you could see he was exhausted by this point, but he kept playing with it. Before long he got the hang of it and was moving the rover all over the screen.

He signed a couple of autographs and shook our hands and posed for pictures with us, and I improvised a few inadequate words of gratitude, and they wheeled him out again. Back to Earth. Forever, maybe.

Or maybe not. Now he has a new connection to that alien place, that world he's imagined for so long. We heard afterward that he was moved to tears by the experience. And to laughter, too: he and his assistants were joking about how he'd never driven a car on Earth, but now he's driven one on Mars.

Ray Bradbury is an old man now, but he's dreamed of Mars since he was young. Ray Bradbury, master storyteller, poet, visionary, creator of the dreams we make into reality -- Ray Bradbury, the first Martian -- went to Mars. On Thursday. And I helped.

I've been chewing on it ever since, and I think I've at last put my finger on what touched me most about the experience. It's this: if Ray Bradbury wrote a story about his own life -- about a man with a phenomenally vivid imagination, a born poet who dreamed of flying to alien worlds and inspired millions to work to make his dream real -- that's how the story would end. Well, in Ray's story, the old man would actually physically go to Mars, and they'd wheel him down the ramp of the gleaming metal spaceship and he'd lean over despite a sigh of pain and his frail hand would brush the soil and he'd weep with pure joy. We didn't do that for him, maybe. But we came awfully damn close.

Thank you, Ray. Thank you for everything.
https://www.youtube.com/embed/LJvl51q5TNU
You are Part of LightSail's Legacy
Let's share the story and success of LightSail® - help secure LightSail's legacy!
Donate Today