Emily Lakdawalla • Sep 27, 2012
Mangalyaan, India's 2013 Mars mission, is now under construction
While the rest of the world was focused on the early days of the Curiosity mission, India's prime minister Manmohan Singh announced the intent to build and launch a Mars orbiter in time for the November 2013 launch window. This is an insanely fast schedule, especially for a country's first spacecraft to be sent beyond the Moon. Of course, India builds and launches many Earth-orbiting satellites, so the necessary industry is in place; still, it seems unlikely that a mission can be built and tested properly so quickly. I gain nothing by predicting delay or doom, though. Instead, I'll hope for success and wish India good fortune in the development and launch.
This is the only picture I have seen of the proposed design:
There does not seem to be an official website for the mission, much less any online press releases from ISRO, so details are sketchy and available mostly only through newspaper articles, which I am hesitant to rely upon. Reports are appearing this week in Asian media (see here, here, and here) that the Bangalore-based Hindustan Aeronautics Limited (HAL) has now delivered the structure of the spacecraft to ISRO. Thanks to Pradeep Mohandas for a link to the HAL press release, which I reproduce in full here:
Bangalore, September 21, 2012: Hindustan Aeronautics Limited (HAL) has handed over the Mars Orbiter Mission Satellite Structure to ISRO Satellite Centre (ISAC) here recently. The mission is aimed at studying the climate, geology, origin and evolution of the red planet.

"The satellite structure is an assembly of composite and metallic honeycomb sandwich panels with a central composite cylinder", says Mr. R.K. Tyagi, Chairman, HAL. The assembly work was carried out at HAL's Aerospace Division in Bangalore. ISRO will build the other satellite subsystems and scientific payload onto this structure. The completed satellite will ultimately embark on a nine month voyage to orbit planet Mars. During its orbit the satellite will be at a distance of 54.6 million kms away from Earth: the farthest any Indian satellite would have travelled.
There's no photo of the structure itself, though there is a photo of HAL and ISRO personnel involved in the delivery. Pradeep told me: "HAL is a government enterprise and it is for the first time that the Mission Director [Mylswamy Annadurai] has been named. Annadurai was also the Mission Director of the Chandrayaan-I mission."
Based on the description in the press release, the item that has been delivered likely looks quite a bit like MAVEN's primary structure, which was delivered almost exactly a year ago, for a mission that is planned to launch in the same November 2013 window: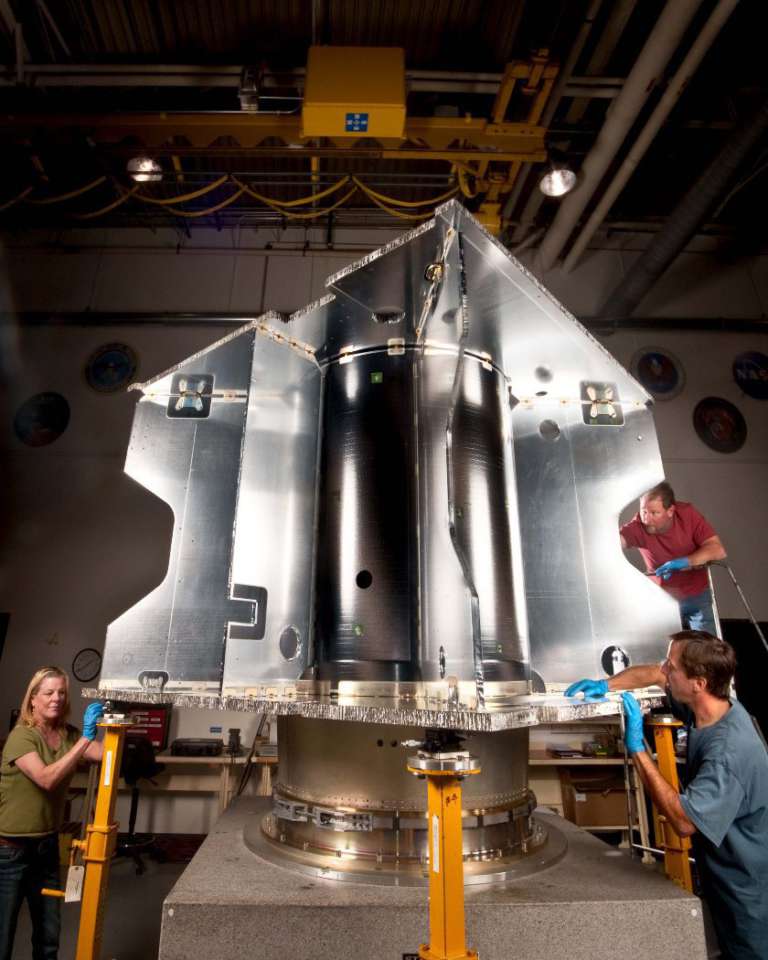 Support Our Core Enterprises
Your support powers our mission to explore worlds, find life, and defend Earth. Tomorrow's discoveries begin today.
Donate