Emily Lakdawalla • Sep 23, 2014
How I will be watching Mars Orbiter Mission's arrival
Below are a few links to what will hopefully be working video feeds watching India's first-ever attempt to place a spacecraft into orbit around another planet. But, to be honest, I expect the best information to come through Twitter. Follow me on Twitter and I'll retweet every tiny whisper of news I come across.
I and everyone else at The Planetary Society wish the best of luck to the Mars Orbiter Mission team, the Indian Space Research Organisation, and all Indians. I hope that the most exciting word we hear this evening is the space engineers' favorite understatement: "nominal." MAVEN made it look easy on Sunday, but it's never easy, and success should never be taken for granted.
Tweets from https://twitter.com/elakdawalla/lists/isro-mom
Here's the timeline again. Go Mars Orbiter Mission!!
Note: The timeline below looks different from the official one because I have added 12.5 minutes to all the official times to account for the time it takes radio signals to travel from Mars back to Earth.
Event
Time
(rel)
Time
(IST)
Time
(CEST)
Time
(UTC)
Time
(PDT)
Change over to Medium Gain Antenna
-3h
Sep 24
04:30:02
Sep 24
01:00:02

Sep 23
23:00:02
Sep 23
16:00:02
Forward rotation starts
-21m
Sep 24
07:09:02
Sep 24
03:39:02
Sep 24
01:39:02
Sep 23
18:39:02
Eclipse starts
-5m 13s
07:24:49
03:54:49
01:54:49
18:54:49
Attitude control with thrusters
-3m
07:27:02
03:57:02
01:57:02
18:57:02
MOI start
07:30:02
04:00:02
02:00:02
19:00:02
Mars occultation start
+4m 18s
07:34:20
04:04:20
02:04:20
19:04:20
Telemetry off
+5m
07:35:02
04:05:02
02:05:02
19:05:02
Eclipse ends
+19.48m
07:49:31
04:19:31
02:19:31
19:19:31
MOI end
+24m 14s
07:54:16
04:24:16
02:24:16
19:24:16
Reverse maneuver start
+25m 14s
07:55:16
04:25:16
02:25:16
19:25:16
Mars occultation ends
+27m 38s
07:57:40
04:27:40
02:27:40
19:27:40
Telemetry resumes
+30m 14s
08:00:16
04:30:16
02:30:16
19:30:16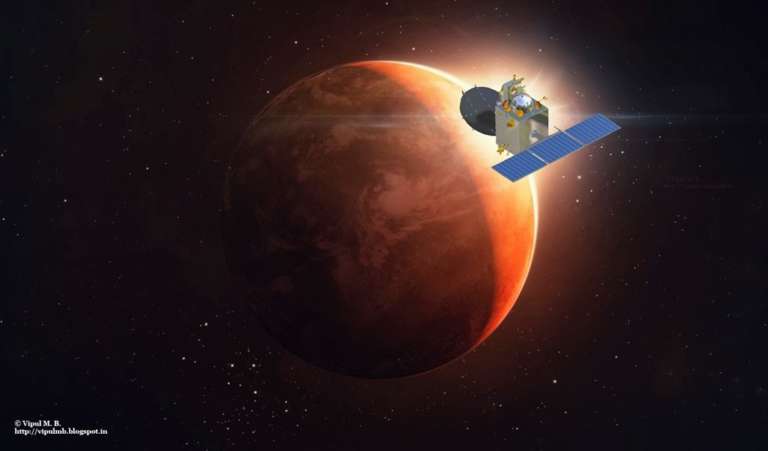 Support Our Core Enterprises
Your support powers our mission to explore worlds, find life, and defend Earth. Tomorrow's discoveries begin today.
Donate