Earth
Cradle of Life As We Know It
Earth is the only place we know of in the universe that harbors life. Ours is the largest terrestrial planet in the solar system. Our rocky, volcanic world is coated in a thin veneer of liquid water, living things, and translucent atmosphere, whose complicated interactions make Earth's surface into a place of constant change. We humans have only had fifty years of perspective on Earth as a planet, of seeing it as a "pale blue dot" floating in the black vacuum of space.
With that perspective, we know precious and unique our planet is. We know, too, that we are having measurable effects on the complex interactions of ocean, land, life, water, and air, changing our climate. But predicting the future of our climate is hard. Understanding how Earth's systems work by studying the way they operate on other worlds is a major goal of planetary exploration. Mars, Venus, and Titan all have (or had) active geology, hydrology, and weather -- but, as far as we know, they don't have life. Is Earth really that unique? Are we truly alone in the universe? We won't know unless we keep searching.
News from Earth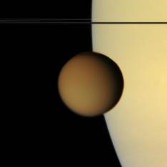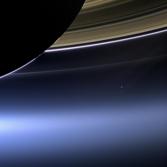 Pretty picture: Looking backward
Posted by Emily Lakdawalla on 2013/07/23 05:03 CDT | 15 comments
Here it is: the view from Saturn of our Earthly home, one and a half billion kilometers away. We see Earth and the Moon through a thin veil of faintly blue ice crystals, the outskirts of Saturn's E ring. Earth is just a bright dot -- a bit brighter than the other stars in the image, but no brighter than any planet (like Saturn!) in our own sky.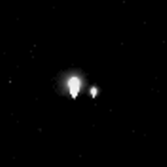 Posted by Emily Lakdawalla on 2013/07/22 05:03 CDT | 3 comments
A new picture of the Earth-Moon system from MESSENGER, taken the same day we were told to "Wave at Saturn." Updated with a neat photo taken from much closer to Earth from a similar perspective.
Earth's Place in Space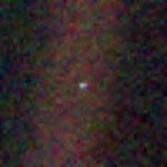 Look again at that dot. That's here. That's home. That's us. On it everyone you love, everyone you know, everyone you ever heard of, every human being who ever was, lived out their lives.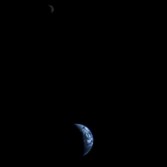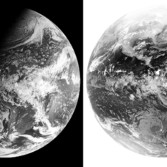 The state of Earth observation, January 2012
As of November 2011, the Earth Observing Handbook counts 109 active missions to study the Earth as a planet, with 112 more approved and planned for the future. Jason Davis provides an overview of key current and upcoming earth-observing missions.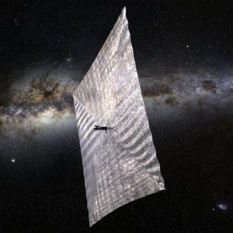 In 2016, The Planetary Society's LightSail program will take the technology a step further.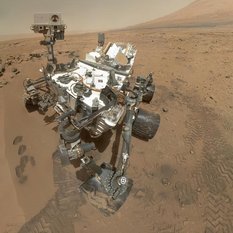 Our Curiosity Knows No Bounds!
Become a member of The Planetary Society and together we will create the future of space exploration.

Pretty pictures and
awe-inspiring science.
Let's invent the future together!