Compare the Planets
Comparing the physical characteristics of the worlds in our solar system (and beyond)
The worlds of our solar system come in all shapes, sizes, and colors. Red-eyed Jupiter, ringed Saturn, and frigid Uranus and Neptune are giant gassy globes containing nearly all of the matter in the solar system. These Jovian planets, or gas giants, are huge worlds of air, clouds, and fluid that may have no solid surfaces no matter how deep you go. Everything else in the solar system is just rock, ice, and dust. The largest rockballs are known as the terrestrial planets: Mercury, Venus, Earth, and Mars, with our Moon usually considered part of the club, and now Vesta is applying for membership. Earth is the biggest of all the rocky worlds.
But the planets are not the only worlds of the solar system. All but two of the planets are orbited by moons, each of them a world unto itself. The largest moons are bigger than the smallest planets, and 16 or 17 would qualify as dwarf planets if they orbited the Sun. There are more than 100 Kuiper belt dwarf planets, but only one among the asteroids, Ceres.
Six solid worlds -- Venus, Earth, Mars, Titan, Triton, and Pluto -- have atmospheres dense enough to produce weather. Eris likely does, when it is near its perihelion. We have witnessed active geology on four worlds -- Earth, Io, Enceladus, and Triton -- and we suspect it on Venus, Europa, and Titan. Comparing the same processes across many worlds helps us to understand how each planet's unique composition and history influence its present state, and will help us predict what to expect on Earth in the future.
Pretty Pictures with Many Worlds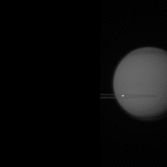 On September 17, 2011 at about 1200 UTC, Cassini pointed at the mid-sized moon Dione and watched as it transited Titan while the rings and two small moons passed by. Pan is a tiny object orbiting within the A ring's Encke gap, while Pandora is the outer shepherd satellite of the F ring.
Filed under Dione, pretty pictures, Cassini, Titan, amateur image processing, Saturn's small moons, Saturn's moons, many worlds, animation, Saturn's rings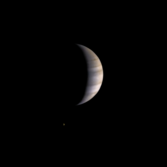 Pioneer 10 departs Jupiter (and Io)
This is a parting shot of Jupiter and Io, taken December 5, 1973, by the Pioneer 10 spacecraft, the first to see either world as a crescent.
Filed under Jupiter's moons, Io, pretty pictures, amateur image processing, Pioneer 10 and 11, global views, many worlds, Jupiter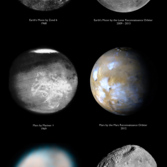 Pushing back the frontiers of the unknown. On the left: destinations in the Solar System as seen by historic robotic spacecraft and telescopes. On the right: the same worlds as seen by recent missions that have filled in some of the blank spaces on the map. Click the image for the full-size version.
Filed under pretty pictures, many worlds, Mercury, the Moon, Mars, Titan, asteroids, asteroid 1 Ceres, asteroid 4 Vesta, Pluto, Mariner 10, MESSENGER, Soviet lunar missions, Lunar Reconnaissance Orbiter, NASA Mars missions before 1996, Mars Reconnaissance Orbiter, Voyager 1 and 2, Cassini, New Horizons, Dawn
Section Highlights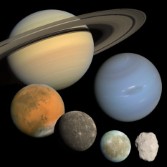 Mass, diameter, density, gravity, orbital characteristics, presented both in metric units and measured relative to Earth.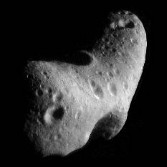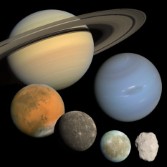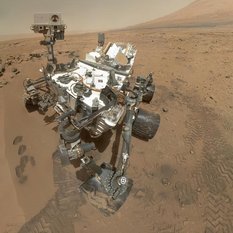 Our Curiosity Knows No Bounds!
Become a member of The Planetary Society and together we will create the future of space exploration.
Thank you
from Bill Nye, our staff, and our partners around the world!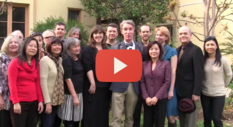 Thanks to you, we are realizing our grand vision — people all over the world supporting space exploration.
Our staff and partners send you heartfelt thanks via this short video.
-Bill Nye
Travel to Bennu on the OSIRIS-REx spacecraft!
Let's invent the future together!