LightSail
Flight by light for CubeSats
LightSail-1 has a launch date! The Planetary Society's solar sailing spacecraft is scheduled to launch aboard the SpaceX Falcon Heavy in April 2016.
CubeSats are tiny, low-cost satellites that have opened up new avenues of space research for universities and small organizations.
In order for CubeSat applications to reach the next level, the miniature satellites need a reliable form of propulsion for orbital maneuvers and trips beyond our planet. This is where solar sailing—transferring the momentum of photons to a large reflective sail—comes in. The technology was successfully used by Japan's IKAROS mission in 2010, and NASA's NanoSail-D test-deployed a CubeSat solar sail in Earth orbit later that year.
In 2016, The Planetary Society's LightSail program will take the technology a step further. LightSail-1 will attempt to demonstrate controlled solar sailing—flight by light—for CubeSats.
Project updates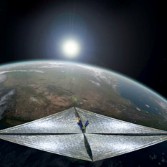 New Developments on the Road to Cosmos 2
Posted by Louis D. Friedman on 2008/06/23 12:00 CDT
The Planetary Society and Cosmos Studios remain committed to flying the first flight with light. Our spacecraft, Cosmos 2, is a maneuverable solar sail that may be the precursor to a new mode of interplanetary travel, and could one day take us to the stars.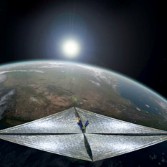 Posted by Louis D. Friedman on 2007/11/16 11:00 CST
A letter from the Executive Director to the members and supporters of The Planetary Society.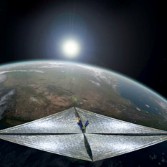 Posted by Louis D. Friedman on 2007/06/15 12:00 CDT
Professional Pilot Magazine asked me to contribute a prediction about the future of flight for the next century. Naturally, I wrote about solar sailing.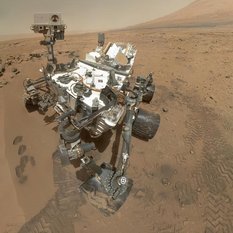 Our Curiosity Knows No Bounds!
Become a member of The Planetary Society and together we will create the future of space exploration.
Travel to Bennu on the OSIRIS-REx spacecraft!
Let's invent the future together!