Appearances by Emily Lakdawalla
Emily Lakdawalla is available for speaking engagements, either physical or virtual. Possible presentation topics include:
The Golden Age of Planetary Exploration - what's currently happening with robotic exploration of the solar system, including lots of amazing photos, for any audience, small children through professional (will adapt appropriately to the audience)
The New Mars - Water on Mars, past and present, how we know what we know, what questions remain, and what active missions like Curiosity are doing up there right now, with lots of amazing photos - for a geek audience, junior high school through professional
Curious About Space? - Is there life out there? Why is Venus so different from Earth? What did we find at Pluto? Why do we keep discovering water on Mars? How many spacecraft are out there exploring how many different places? What are the questions that motivate space exploration, and what are we doing to answer them? - for a nonspecialist audience, children and adults
Amateur spacecraft image data processing -- either what they are doing and why the pros should care, or how to process images (of course, featuring lots of gorgeous space photos) - for a professional/geek audience
Improving science communication - for science professionals or students (featuring fewer pretty pictures, but there will be some!)
I am a geologist - for young children (preschool to 10 or so) - I come dressed in geology field gear, discuss with kids what I'm wearing and why, hand around some props, finish with discussion of what other scientists wear to do their jobs, ask each kid to think about themselves as a scientist and draw a picture of how they'd dress to do the job. Goal: dispelling the preconception of scientists as men in white lab coats.
Email blog@planetary.org to inquire about booking and fee.
Calendar
This is a Google calendar, so times are shown according to your computer's time zone.
Biography
Presentations from Previous Appearances
Head shots (click to enlarge):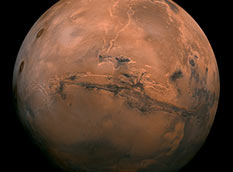 Our Advocacy Program provides each Society member a voice in the process. Funding is crucial. The more we have, the more effective we can be, translating into more missions, more science, and more exploration.
Beyond The Horizon, There's More To Explore!
Become a member of The Planetary Society and together we will create the future of space exploration.

Pretty pictures and
awe-inspiring science.
Let's explore the cosmos together!