Donald Trump
Are we missing anything? Let us know at election2016@planetary.org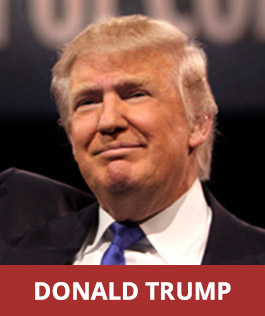 September 20th - Written answer to a question posed by ScienceDebate
"Space exploration has given so much to America, including tremendous pride in our scientific and engineering prowess. A strong space program will encourage our children to seek STEM educational outcomes and will bring millions of jobs and trillions of dollars in investment to this country. The cascading effects of a vibrant space program are legion and can have a positive, constructive impact on the pride and direction of this country. Observation from space and exploring beyond our own space neighborhood should be priorities. We should also seek global partners, because space is not the sole property of America. All humankind benefits from reaching into the stars."
---
August 3rd, 2016 - Rally in Daytona Beach, Florida
"Look at your space program. Look at what's going on there. Somebody just asked me back stage, 'Mr. Trump, will you get involved in the space program?' Look what's happened with your employment. Look what's happened with our whole history of space and leadership. Look what's going on folks. We're like a third-world nation."
---
July 28th, 2016 - Reddit "Ask Me Anything" Response
Q: "What role should NASA play in helping to Make America Great Again?"
A: "Honestly I think NASA is wonderful! America has always led the world in space exploration."
---
July 20th, 2016 - Official Facebook Post
"47 years ago our nation did something that NOBODY thought we could do - we were the first to put a man on the moon. It is time to be number one, again! Believe me, as President, we will once again, Make America First Again!"
---
May 2016 - Aerospace America Questionnaire
"NASA has been one of the most important agencies in the United States government for most of my lifetime. It should remain so. NASA should focus on stretching the envelope of space exploration for we have so much to discover and to date we have only scratched the surface."
On whether Mars should be the goal for NASA: "A lot of what my administration would recommend depends on our economic state. If we are growing with all of our people employed and our military readiness back to acceptable levels, then we can take a look at the timeline for sending more people into space."
---
Feb 28th, 2016 - Campaign rally in Alabama
Donald Trump, speaking at a rally now near Huntsville, Ala., says he'll keep the space program "going" as president.

— Jeff Foust (@jeff_foust) February 28, 2016
Trump suggests he would make budget cuts in other areas, but not the space program. He did not elaborate (so far) in his speech.

— Jeff Foust (@jeff_foust) February 28, 2016
---
Nov 11, 2015 - Washington Post
"In the old days, it [NASA] was great. Right now, we have bigger problems, you understand that. We have to fix our potholes. We don't exactly have a lot of money."
"You know, space is actually being taken over privately, which is great. It's being taken over, a lot of private companies going up into space. I like that maybe even better."
---
Aug 15, 2015 - Space Policy Online
[On sending humans to Mars] "Honestly, I think it's wonderful. I want to rebuild our infrastructure first. OK? I think it's wonderful." video source
---
It is very sad to see what @BarackObama has done with NASA. He has gutted the program and made us dependent on the Russians.

— Donald J. Trump (@realDonaldTrump) August 27, 2012
Beyond The Horizon, There's More To Explore!
Become a member of The Planetary Society and together we will create the future of space exploration.
Our Advocacy Program 
provides each Society member 
a voice in the process.


Funding is critical. The more 
we have, the more effective 
we can be, translating into more 
missions, more science, 
and more exploration.

Pretty pictures and
awe-inspiring science.
Let's explore the cosmos together!