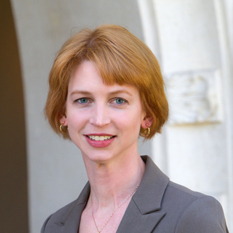 Emily Lakdawalla
Senior Editor and Planetary Evangelist
blog@planetary.org
+1-626-793-5100
Extended bio
Appearance calendar and head shots
Emily Lakdawalla is a passionate advocate for the exploration of all of the worlds of our solar system. Through blogs, photos, videos, podcasts, print articles, Twitter, and any other medium she can put her hand to, Emily shares the adventure of space exploration with the world.
Emily holds a Bachelor of Arts degree in geology from Amherst College and a Master of Science degree in planetary geology from Brown University. She came to The Planetary Society in 2001 to oversee a portion of the Society's Red Rover Goes to Mars project, an education and public outreach program on the Mars Exploration Rover mission funded by LEGO. She has been writing and editing the Planetary Society Blog since 2005, reporting on space news, explaining planetary science, and sharing beautiful space photos. She appears weekly on the Society's Planetary Radio podcast, answering listener questions or rounding up the latest space news from the blog.
Emily has been an Administrator of the forum UnmannedSpaceflight.com since 2005, supporting a worldwide community of amateur space image processors. She is also a contributing editor to Sky & Telescope magazine.
She is now writing her first book, tentatively titled Curiosity on Mars: Design, Planning, and the First Mars Year of Operations, due out from Springer-Praxis in 2015. The book will explain the development, design, mission, and science of Curiosity with the same level of technical detail that she delivers in the Planetary Society Blog.
Emily can be reached at blog@planetary.org or @elakdawalla on Twitter.
Latest Planetary Radio Appearance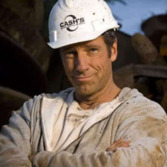 Latest Blog Posts

Rosetta update: Long journey to a comet nearly complete
Posted 2014/07/29 01:40 CDT | 1 comment
A journey of nearly a decade is almost over. Rosetta is making its final approach to comet 67P/Churyumov-Gerasimenko, and the comet's strange shape is beginning to come into focus. As of today, the spacecraft is only 2000 kilometers away from the comet, and 8 days away from arrival.


Latest Processed Space Images

Prometheus and Pandora and the F ring
Posted 2014/06/27 | 1 comments
Prometheus (left) and Pandora (right) are small, elongated moons that orbit inside and outside the F ring, respectively. Cassini was slightly less than half a million kilometers from Pandora when it took this photo of the pair on October 29, 2005. Prometheus is 148 by 68 kilometers in size, and Pandora is 110 by 62 kilometers. Note the small streamer of material that Prometheus has drawn out of the inner edge of the F ring during a recent collision.

Saturn's innermost moons: Pan, Daphnis, Atlas, Prometheus, Pandora, Epimetheus, Janus, and Mimas, to scale
Posted 2014/06/26 | 0 comments
The eight innermost moons of Saturn, in color images collected by Cassini between June 7, 2005, and July 5, 2010. Pan and Daphnis (top left small moons) orbit within the Encke and Keeler gaps in the rings; Atlas (below Pan and Daphnis) orbits at the outer edge of the main rings. To their right are Prometheus and Pandora; Prometheus orbits just inside and Pandora just outside the F ring. Below them are Epimetheus (left) and Janus (right), which trade positions every four years, averaging out to the same distance from Saturn. Mimas orbits considerably farther away, but its gravitational effects influence the positions of gaps and waves within the rings. At full resolution, the montage has a scale of 500 meters per pixel.

Curiosity route map: Wide view: comparing "rapid transit" and "safe transit" routes
Posted 2014/06/25 | 0 comments
An overview of the major landmarks along Curiosity's traverse to date. Both past (white) and proposed future (yellow, green) paths are based on Curiosity mission maps produced by Fred Calef. The yellow "rapid transit route" was the original drive plan, but after the wheels started accumulating damage from pointy rocks, they changed the plan to drive on safer, sandier terrain here mapped in green as the "safe transit route." Murray Buttes marks the point where Curiosity will be able to navigate across the basaltic sand dune field and finally begin to approach the layered, clay-rich rocks for which Curiosity's landing site was selected. The base map is a Mars Reconnaissance Orbiter Context Camera mosaic assembled by Tanya Harrison, colorized with a Mars Express High Resolution Stereo Camera image.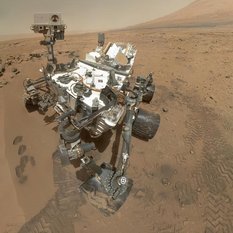 Our Curiosity Knows No Bounds!
Become a member of The Planetary Society and together we will create the future of space exploration.
Travel to Bennu on the OSIRIS-REx spacecraft!
Let's invent the future together!