See other posts from November 2010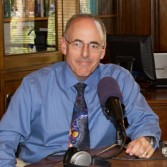 There is something about the space shuttle...
Posted By Mat Kaplan
2010/11/01 06:48 CDT
Topics: mission status, personal stories, human spaceflight, Space Shuttle program
I'm sitting at LAX's gate 70B waiting for our flight to Orlando, via O'Hare. My old college friend is reading IEEE Spectrum in the seat next to me. We had promised each other, oh, maybe 25 years ago that we would someday see a launch in person. So far, so good. NASA decided this morning, with a unanimous vote, to go for launch on Wednesday afternoon. I'm counting on it. I have to fly out of Orlando no later than Thursday evening. So, Godspeed Discovery.
A pleasant surprise: People at work, people I barely know, the guy next to me on the airport shuttle--every one of them broke out in a big smile and wished me luck as soon as I told them where I was going and what I hoped to see. Most expressed envy. Yet most had never spoken to me about space exploration with anything but polite interest. There is something about the space shuttle, and perhaps something about any rocket that carries fellow humans, that still captures almost everyone's sense of wonder and adventure.
We're preparing to board. I'll check in again soon. It bears repeating: Godspeed Discovery.
They are Watching the Skies for You!
Our researchers, worldwide, do absolutely critical work.

Asteroid 2012DA14 was a close one.
It missed us. But there are more out there.
Send your name and message on Hayabusa-2.
Let's invent the future together!