Hillary Clinton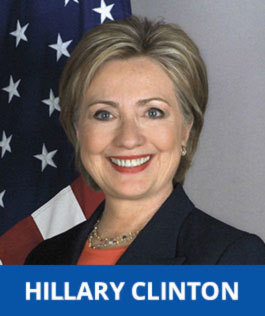 October 25th, 2016 - Op-ed, "Hillary will expand our space potential" in SpaceNews
"Secretary Clinton understands that to ensure continued U.S leadership in space, it is critical that NASA have the resources and predictable funding necessary to achieve its goals and missions. As president, she will support the key public investments that help drive advances in science and technology, both in space science and in Earth science, and deepen support for strong public-private partnerships that create jobs and improve lives throughout our country and around the world. Further, her administration will work with Congress to ensure that NASA has the right leadership and funding. And, to solve problems more effectively and expeditiously, she will elevate executive branch coordination of federal agency space initiatives and accelerate the development of advanced new technologies."
>>> Read the full op-ed at SpaceNews
---
October 10th, 2016 - Written responses to questions posed by SpaceNews
"If elected, I will support NASA's efforts to drive innovation and advance the technology that expands our understanding of the Earth, the solar system and the universe, and provides global leadership that enables humanity to explore beyond our home planet. NASA's missions must both bring scientific, economic and educational value to our country and capture our imaginations."
"Since the success of Apollo, NASA has not focused on a singular goal, but has involved instead to serve a wide range of national functions. We must increase investments in science, technology and infrastructure, in STEM education, and in public outreach to ensure that NASA continues to capture our imaginations, contribute to our economy, and drive human understanding forward."
"I have always been an enthusiastic supporter of human space flight. My administration will continue to invest in this worthwhile endeavor. Mars is a consensus horizon goal, though to send humans safely, we still need to advance the technologies required to mitigate the effects of long-duration, deep-space flight."
>>> Read the full set of answers at SpaceNews
---
September 20th, 2016 - Written answer to a question posed by ScienceDebate
"As president, my administration will build on this progress, promote innovation, and advance inspirational, achievable, and affordable space initiatives. We must maintain our nation's leadership in space with a program that balances science, technology and exploration; protect our security and the future of the planet through international collaboration and Earth systems monitoring; expand our robotic presence in the solar system; and maximize the impact of our R&D and other space program investments by promoting stronger coordination across federal agencies, and cooperation with industry. I will work with Congress to ensure that NASA has the leadership, funding and operational flexibility necessary to work in new ways with industry, placing emphasis on inventing and employing new technologies and efficiencies to get more bang for the buck while creating jobs and growing the American economy.
"Today, thanks to a series of successful American robotic explorers, we know more about the Red Planet than ever before. A goal of my administration will be to expand this knowledge even further and advance our ability to make human exploration of Mars a reality."
---
July 16, 2015 - Space Policy Online
"I really, really do support the space program,"
"One of the great advantages we have had in the 50, 60, 70 years vis a vis the rest of the world is the investment we've made in science and research of all kinds. It is a huge economic boom."
"We have also had lots of businesses spin off from NASA research. We have had the benefit of that research going into the public domain so that it could be used not just for academic research purposes but for commercial research purposes. I believe it is one of America's advantages."
"I would like to see us continue explore space."
"On a security basis we should be mapping [NEOs] that everyone is worrying about."
"I don't have an objection to partnering with commercial partners, but they are more in the applied science arena, not the discovery science arena which only the government can support."
video source
---
March 20, 2012 - The Washington Post
"Now, some of you may know that when I was a little girl growing up in Illinois, I was interested in all kinds of stories about women. And my mother … actually told me about Amelia Earhart. And then when we decided, under President Kennedy's leadership, that our nation was going to go to the moon and we were going to have an astronaut program, I wanted to be an astronaut. So when I was about 13, I wrote to NASA and asked what I needed to do to try to be an astronaut. And of course, there weren't any women astronauts, and NASA wrote me back and said there would not be any women astronauts. And I was just crestfallen. But then I realized I couldn't see very well, and I wasn't all that athletic, so probably, I wouldn't be the first woman astronaut anyway."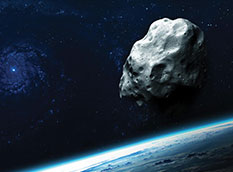 An asteroid or comet headed for Earth is the only large-scale natural disaster we can prevent. Working together to fund our Shoemaker NEO Grants for astronomers, we can help save the world.
Beyond The Horizon, There's More To Explore!
Become a member of The Planetary Society and together we will create the future of space exploration.

Pretty pictures and
awe-inspiring science.
Let's explore the cosmos together!