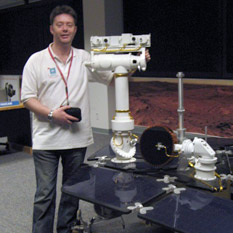 Stuart Atkinson
Stuart Atkinson is a lifelong space enthusiast, amateur astronomer and frustrated martian. He writes about the daily adventures of the Mars Exploration Rover Opportunity at his Road to Endeavour blog. You can find his homepage here and his Twitter here. He participates at unmannedspaceflight.com under the name "Stu."
He is an astronomy outreach educator and author of 14 children's astronomy and spaceflight books. He has written for many magazines, newspapers and websites, and also runs his town's astronomical society, the "Eddington Astronomical Society of Kendal".
Stuart broadcasts regularly on his local BBC and independent radio stations, making regular appearances on BBC Radio Cumbria in which he talks about topical astronomical and spaceflight stories.
Latest Blog Posts
Outcrop Ahead for Opportunity!
Posted 2012/09/07 01:12 CDT | 1 comments
Oppy is opening an exciting new chapter in her adventure at Cape York. Having driven down to, over and past Whim Creek, she has now explored halfway down Cape York, to a promising fin-like ridge of dark rock.

Posted 2012/07/02 11:18 CDT | 0 comments
Earlier today, unnoticed by the vast majority of the world, Opportunity reached and then silently passed a major milestone in her great adventure on Mars. At just before 3am, UK time, Opportunity began her 3000th sol, or martian day, on Mars.

Posted 2012/06/05 10:00 CDT | 0 comments
Since you last visited, Opportunity has continued to drive downhill – well, what passes for 'downhill' on Cape York! – and is now not far at all from the northern edge of the Cape. From where she is now she sees the Meridiani desert stretching away to the north and west, the eastern hills on her right, and the Cape itself behind her. And around her? lots and lots of Homestake-like gypsum veins.
Latest Processed Space Images


Posted 2013/07/16 | 0 comments
Opportunity is currently at a place called Yuma, along the southeastern edge of Santa Maria Crater. In this image, Stuart Atkinson, who colorized and enhanced the Pancam picture, placed a would-be astronaut to give you an idea of the scale. Opportunity is currently located just outside the picture to the right.

Posted 2013/07/16 | 0 comments
Opportunity took this image of Luis de Torres, a target in the Yuma area along the southeastern rim of Santa Maria Crater. The rover is currently examining the target to determine its content and if these rocks are the source of the hydrated sulfate signal detected from orbit by the CRISM intrument onboard the Mars Reconnaissance Orbiter.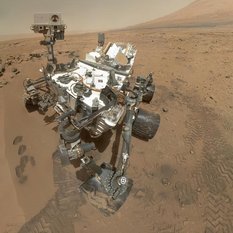 Our Curiosity Knows No Bounds!
Become a member of The Planetary Society and together we will create the future of space exploration.
Travel to Bennu on the OSIRIS-REx spacecraft!
Let's invent the future together!