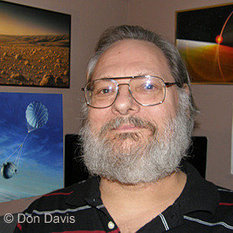 Don Davis
Don Davis is a space artist and animator. He is a member and Fellow of the International Association of Astronomical Artists. Visit his website to see his paintings and his writing on the colors of Mars.
Latest Processed Space Images

A sunset postcard and a special shadow from Opportunity
Posted 2012/03/27 | 0 comments
Near sunset on sol 2847 (January 27, 2012), Opportunity gazed backward to the east-southeast and the distant line of peaks that mark the far rim of Endeavour crater. The setting Sun throws very long shadows from the very low-standing ridge that Opportunity, is in turn, standing on. In fact, Opportunity's own shadow is visible, a blurry speck standing on the ridge's shadow.
They are Watching the Skies for You!
Our researchers, worldwide, do absolutely critical work.

Asteroid 2012DA14 was a close one.
It missed us. But there are more out there.
Send your name and message on Hayabusa-2.
Let's invent the future together!