Advisory Council
Buzz Aldrin
On July 20, 1969, Apollo 11 Buzz Aldrin became one of the first humans to walk on the moon. Since that day, Aldrin has remained at the forefront of efforts to ensure a continued leading role for America in human space exploration. He founded a rocket design company, Starcraft Boosters, Inc., and the ShareSpace Foundation, a nonprofit organization devoted to opening the doors to space tourism for all people.
Richard Berendzen
Richard Berendzen, a noted astrophysicist, is a professor of physics at American University in Washington, D.C. and a longtime NASA consultant. He is also head of American University's chapter of the D.C. Space Grants Consortium, a nationwide group that helps fund the study of space.
Jacques Blamont
Jacques Blamont has been a Professor of Physics at the University of Paris since 1957. He directed the first launches of the French Veronique rockets in 1957 and was instrumental in creating the French space agency CNES in 1962. In 1972 he became Chief Scientist and Adviser to the Director General of CNES. Blamont was a member of the Science Steering Groups on the NASA missions Voyager, Pioneer-Venus, and of the USSR mission Vega to Venus and Halley's comet; and a prime investigator on the Soviet Union's Phobos mission.
David Brin
David Brin is a scientist, author and public speaker. Several of his novels have been New York Time Bestsellers, winning multiple Hugo, Nebula and other awards. As a member of the Planetary Society, Brin has helped rouse support for Society programs such as the development of solar sails and he has spoken at PlanetFest and other events celebrating planetary encounters. After receiving an undergraduate degree in astrophysics from Caltech, Brin earned a Ph.D in Planetary Science from UCSD with his work on the physics and evolution of comets. Books include The Postman, Startide Rising, Kiln People and many more.
James Cantrell
For more than 20 years, James Cantrell has worked with The Planetary Society on a number of projects, from the Mars Balloon in the late 1980s to the Cosmos 1 solar sail. Cantrell is the founder of Strategic space Development, a business development consulting firm that works with a number of aerospace companies. He has worked for the Jet Propulsion Laboratory, the French Space Agency, and for the Space Dynamics Laboratory.
Franklin Chang-Diaz
Franklin Chang-Diaz is both an astronaut and the director of the Advanced Space Propulsion Laboratory at NASA Johnson Space Center. Logging seven shuttle missions from 1986 to 2002, Chang-Diaz is tied with astronaut Jerry Lynn Ross for the honor of most missions flown by any astronaut in the world. Chang-Diaz has performed three space walks, visited two different space stations (Mir and the International Space Station), and helped deploy the Galileo spacecraft.
Frank Drake
Frank Drake conducted for the first radioastronomy search for extraterrestrial intelligence, Project Ozma, in 1960, observing the stars Tau Ceti and Epsilon Eridani. He also developed the famous Drake Equation, a tool by which one can estimate the number of possible extraterrestrial civilizations in our galaxy. Drake is a Research Professor of Astronomy and Astrophysics at the University of California, Santa Cruz and is the president of the SETI Institute.
Owen Garriott
Skylab astronaut Owen Garriott brings space flight expertise to the Planetary Society's Advisory Council, having flown twice in space and logging a total of more than 1,427 hours in space. In 1973, he spent 13 hours, 43 minutes in three separate space walks outside of Skylab. In 1983, he made his second flight in space, this time aboard the space shuttle STS-9 with the first flight of the International Science Station, called Spacelab-1. Garriott currently is an Adjunct Professor in the Department of Biological Science, University of Alabama in Huntsville.
Garry Hunt
Garry Hunt has been an active member of The Planetary Society since its formation and a tireless communicator -- as both a speaker and author - of the results of space exploration to audiences all over the world. A former staff member of JPL, he was actively involved in all the planetary missions of the 70-90s, but principally with the Voyager mission as one of the original members of the Imaging Team. Garry Hunt is now the Managing Partner of Elbury Enterprises.
Bruce Jakosky
Bruce Jakosky is a Professor in the Laboratory for Atmospheric and Space Physics and the Department of Geological Sciences at the University of Colorado in Boulder, and also heads up the University of Colorado's team in the NASA Astrobiology Institute. He teaches undergraduate and graduate courses in both Earth and planetary geology and extraterrestrial life, including both the science and the societal and philosophical issues relating to the science. He has been involved with several space missions, including Viking, the Solar Mesosphere Explorer, Clementine, Mars Observer, Mars Global Surveyor and Mars Odyssey.
Tom Jones
Thomas D. Jones, Ph.D. – planetary scientist, author, pilot, and former NASA astronaut - logged nearly 53 days in space and made three space walks totaling more than 19 hours during his 11-year career with NASA, flying aboard the space shuttle and helping build the ISS. Jones is the author of Sky Walking: An Astronaut's Memoir. He also co-authored The Complete Idiot's Guide to NASA, Planetology: Unlocking the Secrets of the Solar System, and Hell Hawks! – a true story of WWII courage in the air. Tom is a senior research scientist at the Florida Institute for Human and Machine Cognition.
Sergei Kapitsa
Sergei Kapitsa is a professor of physics and chairman of the Physics Dept at the Moscow Institute of Physics and Technology. Professor Kapitsa is currently vice president of the Academy of Natural Sciences of Russia and president of the Eurasian Physical Society. Professor Kapitsa is also the host of a weekly science program for Russian television.
Charles Kohlhase
Charles Kohlhase is a planetary mission designer, author, artist, teacher, environmentalist, and public outreach specialist. In his four-decade JPL career, he led the mission design activities for robotic missions to most of the planets, including the epic Voyager Grand Tour and Cassini, receiving four NASA special achievement medals, including the Distinguished Service Medal. He produces fine art for galleries, participates in many joint art and science educational projects, and consults for NASA/JPL.
Laurie Leshin
Before becoming Director of Sciences and Exploration at NASA Goddard in August 2005, Laurie Leshin was The Dee and John Whiteman Dean's Distinguished Professor of Geological Sciences and the Director of the Center for Meteorites Studies at Arizona State University. She has served on President Bush's Commission on Implementation of United States Space Exploration Policy, and she has received the NASA Distinguished Public Service Medal. The International Astronomical Union recognized her contributions to planetary science with the naming of asteroid 4922 Leshin.
Jon Lomberg
Jon Lomberg was involved in the formation of the Planetary Society in 1981, when he designed the famous sailing ship logo, used during the first 20 years of the Society's existence. An artist of science, he worked closely with astronomer Carl Sagan as Sagan's principle artistic collaborator for 25 years, collaborating on such projects as the TV series COSMOS (for which Lomberg was Chief Artist and won an Emmy Award); the film CONTACT; the Nuclear Winter hypothesis; and NASA's legendary Voyager Interstellar Record (for which Lomberg was Design Director).
Rosaly M. Lopes
Rosaly Lopes is a Principal Scientist at the Jet Propulsion Laboratory, where she is also Lead Scientist for Geophysics and Planetary Geosciences. Specializing in planetary and terrestrial geology and volcanology, Lopes has traveled extensively to active volcanoes. Lopes worked on the Galileo mission and was responsible for observations of Jupiter's volcanic moon Io from 1996 to 2001, discovering 71 active volcanoes. She is currently an Investigation Scientist on the Cassini Titan Radar Mapper Team and is studying the geology of Titan, particularly its strange ice volcanoes.
Hans Mark
Hans Mark is a professor of aerospace engineering and engineering Mechanics at the University of Texas at Austin. He also holds the John J. McKetta Centennial Energy Chair in Engineering. During his tenure as Secretary of the Air Force in 1978-1981, Mark initiated the establishment of the U.S. Air Force Space Command. Mark also directed the NASA-Ames Research Center for eight years.
Yanusori Matogawa
Yasunori Matogawa is associate executive director of JAXA (Japan's space agency) in charge of the Office of Public Outreach and Space Education, and is a professor of ISAS, the space department of JAXA in charge of robotic space missions of Japan. Matogawa has devoted more than 30 years to Japanese space exploration. He is also director and head of the Japan Space Education Center (JSEC) of JAXA.
Bob McDonald
Bob McDonald is a Canadian broadcaster known for making complex scientific issues understandable, meaningful and fun. He is the host of CBC Radio's Quirks & Quarks – an award-winning science program with 500,000 listeners each week – a regular reporter for CBC TV's The National and host of the children's series Head's Up. As a writer he has authored three bestselling science books and contributed to numerous textbooks, magazines, and newspapers. He is an Officer of the Order of Canada and a recipient of the Queen's Jubilee Medal. McDonald provides the Society with guidance for our work in Canada.
Risto Pellinen
Risto Pellinen is director of the Geophysical Research Department at the Finnish Meteorological Institute and is also the chairman of Europe's Science Program Committee. He is a past chairman of IMEWG: the International Mars Exploration Working Group.
Matt Renninger
Matt Renninger is a Senior Congressional Liaison at the Australian Embassy in Washington, D.C., and a former congressional staffer to Congressman Rick Larsen (WA-02). He acted as Rep. Larsen's policy advisor for science and technology, among other issues. Matt has an M.A. in Government and International Relations from the University of Sydney, and a B.A. in Political Science from Washington State University. Matt has been an active Planetary Society member for several years, and is involved in the Society's advocacy efforts on Capitol Hill.
John Rhys-Davies
Actor John Rhys-Davies joined The Planetary Society's Advisory Council in 2004, but first began working with the Society in 1998 when he appeared on stage at the Pasadena Playhouse in the benefit performance, "An Evening on Mars with Ray Bradbury." Rhys-Davies appeared as the dwarf warrior Gimli in all three films of Peter Jackson's adaptation of J.R.R. Tolkein's Lord of the Rings trilogy. He also is well-known to film audiences for his role as Indiana Jones' good friend Salla in Raiders of the Lost Ark and Indiana Jones and the Last Crusade.
Kim Stanley Robinson
Science fiction author Kim Stanley Robinson wrote the award-winning Mars trilogy: Red Mars, Green Mars, and Blue Mars. His second trilogy, exploring the consequences of global warming, includes Forty Signs of Rain, Fifty Degrees Below and Sixty Days and Counting. Other award-winning novels include The Wild Shore, A Short, Sharp Shock, and The Years of Salt and Rice.
Donna Shirley
When Donna Shirley retired from JPL after more than three decades, she was perhaps best known for her work with Mars as both manager of the Mars Exploration Program Office and as manager of the team that built the Sojourner rover for the Mars Pathfinder mission. Shirley's most recent role was as Executive Director of the Science Fiction Museum in Seattle.
Pete Slosberg
Pete Slosberg received his B.S. in Space Mechanics and Propulsion and his MBA from Columbia University and had jobs for three summers at NASA's Jet Propulsion Laboratory. His first career was in the technology industry, where he held management positions at Xerox, ROLM, and IBM. In 1986, he turned a home brewing hobby into a pioneering craft beer company: Pete's Wicked Ale. After ten consecutive years of over 100% growth rates and three years on the Inc. Magazine top 100 fastest growing private companies, his company went public and was then sold. He then turned a love of Belgian chocolate into another company, Cocoa Pete's Chocolate Adventures, which was also sold. More recently, he has been active in helping to grow the craft beer business in South America; volunteering with the Clinton Foundation Entrepreneurship program and SCORE, the Service Corps of Retired Executives.
Kevin Stube
Actively involved with Space Generation Advisory Council, Kevin Stube is committed to a future in space marked by international cooperation creating access to space for exploration, science, technology advancement, and tourism. A former EMT, firefighter, and hazmat technician, Stube has also worked on the TEGA instrument for the Mars Phoenix Mission. He earned his masters degree in space studies form the University of North Dakota.
Lorne Trottier
Lorne M. Trottier is co-founder of Matrox, a privately held group of companies known for innovative computer graphics, video and imaging products. He is a member of the advisory boards of McGill University's Faculties of Engineering and Science, and he is a Governor Emeritus of the University. Trottier widely supports science education in Canada and has long been a supporter of The Planetary Society. Trottier also provides the Society with guidance for our work in Canada.
An astrophysicist with the American Museum of Natural History and the Frederick P. Rose Director of the Hayden Planetarium, Neil remains close to his hometown roots in New York City where he graduated from the Bronx High School of Science. Neil earned his BA in Physics from Harvard and his PhD in Astrophysics from Columbia. While Neil has focused his early research primarily on stellar evolution and galactic structure, he has also devoted considerable energy to educating the public. Neil's professional research interests include star formation, exploding stars, dwarf galaxies, and the structure of our Milky Way, working with data from the Hubble Space Telescope, as well as from telescopes in California, New Mexico, Arizona, and the Andes Mountains of Chile.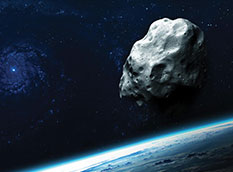 An asteroid or comet headed for Earth is the only large-scale natural disaster we can prevent. Working together to fund our Shoemaker NEO Grants for astronomers, we can help save the world.
Beyond The Horizon, There's More To Explore!
Become a member of The Planetary Society and together we will create the future of space exploration.

Pretty pictures and
awe-inspiring science.
Let's explore the cosmos together!