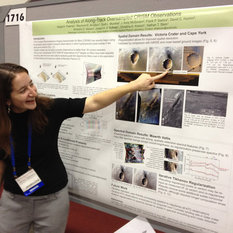 Abigail Fraeman
Latest Blog Posts
Buzz Aldrin on Dancing with the Stars: Week 3, and that's it
Posted 2010/04/07 12:12 CDT | 0 comments
Our favorite astronaut has moonwalked off the dance floor, and we want to thank him for showing us that you're never too old to try something new. This is my last post -- I hope you've enjoyed reading these little interjections of space-related pop culture.
They are Watching the Skies for You!
Our researchers, worldwide, do absolutely critical work.

Asteroid 2012DA14 was a close one.
It missed us. But there are more out there.
Send your name and message on Hayabusa-2.
Let's invent the future together!