A Grand Celebration of Space Science and Exploration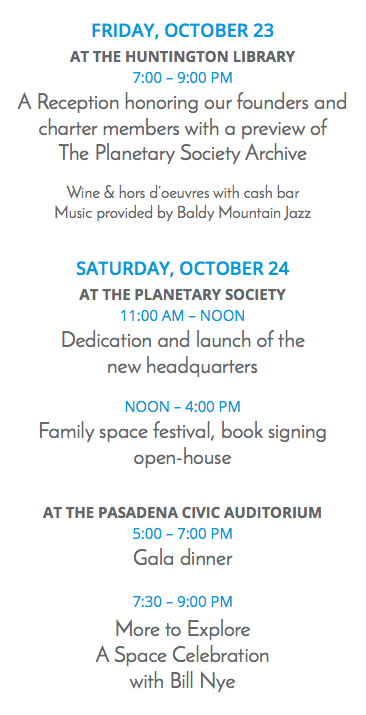 October 23 and 24
You are cordially invited to attend The Planetary Society's 35th Anniversary Celebration with proceeds to benefit the establishment of its archive.
New HQ Dedication, Family Space Festival and More to Explore program still open for reservations and tickets!

Tickets for the Friday Reception and Saturday Gala Dinner are no longer available (the RSVP deadline was October 15).
For the Society, our 35th Anniversary marks an extraordinary year. After more than decade of effort, the Society's dream of solar sailing came true and we saw the successful test flight of our LightSail™ spacecraft this spring. At the same time, we invested in planetary defense through our 9th round of Shoemaker NEO grants, and convened a workshop to galvanize the space community behind a plan to send humans to Mars. Propelled by a $4.2 million capacity-building gift, our membership has grown, we've strengthened public awareness and advocacy, new staff joined our team, and we moved into a new, larger headquarters to accommodate it all.
To commemorate these remarkable achievements, we're going to do two things: preserve our history and throw a huge party!
To celebrate our anniversary and raise $100,000 for the Archive, we are inviting our members to Pasadena for an exciting gala celebration and fundraising event. We hope you will join us!
This 35th Anniversary is just as much a celebration of the human endeavor to explore space as it is a celebration of the involvement of the members and volunteers of The Planetary Society who have been shoulder-to-shoulder with the staff and Board as champions of the fight for space science. It's a party honoring your enthusiasm, curiosity and commitment; your desire to know the cosmos and your place within it.
On behalf of the Society, thank you for your enduring support for our great quest to—dare I say it?— change the world!
Onward,

Bill Nye, CEO
Frequently Asked Questions
Have questions? We've collected answers on our Frequently Asked Questions page.
Visit our Author Event page for a complete schedule and details on the author panels and book signings.
Ticket Ordering
1. Tickets are almost sold out, but there may be some remaining tickets available for our More to Explore event from TicketMaster (see below).
2. If you are only attending the Saturday evening event, More to Explore: A Space Celebration with Bill Nye, then purchase your ticket at Ticketmaster, and use the offer code TPS35 to receive a 10% discount. *Ticket prices range from $27 - $97, plus Ticketmaster charges.
3. If you cannot attend, but would like to support the Archive Project, then you may make a contribution here: