Volume 24, number 6
November/December 2004
Cosmos 1: Our Solar Sail
Download this issue as a PDF
(Planetary Society members only)
Features

7 Cosmos 1: The Journey Begins! Amir Alexander and Louis Friedman share the mission details and chronicle the development of the spacecraft as we gear up for our March 2005 launch.
12 Our First Look Inside a Comet: Deep Impact: Lucy McFadden and Mike A'Hearn detail how this unusual mission came to be and why they're hoping to learn about the comet (and our early solar system) by examining the fresh impact crater left behind.
Departments
3 Members' Dialogue The humans vs. robotic space exploration debate continues
4 We Make it Happen! Hunting for impact craters on Earth
18 World Watch SpaceShipOne, Society political advocacy efforts, and the NASA budget
20 Q&A Is Titan's surface well-lit enough for Huygens to see anything? How are rocks on Mars broken apart?
22 Society News Newest members of the advisory council; Planetary Radio expands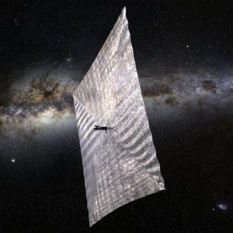 In 2016, The Planetary Society's LightSail program will take the technology a step further.

Pretty pictures and
awe-inspiring science.
Let's invent the future together!