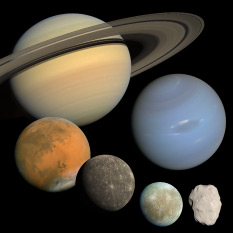 Tayfun Öner
Latest Processed Space Images

Posted 2012/04/20 | 0 comments
To make this 3D view of the "Snowman" crater chain on Vesta, Tayfun Öner first created a global 3D model of Vesta from the Dawn mission's rotation movie, then mapped a higher-resolution image of the snowman to it, then rendered two views of the craters from two different perspectives and combined them into a red-blue anaglyph.
They are Watching the Skies for You!
Our researchers, worldwide, do absolutely critical work.

Asteroid 2012DA14 was a close one.
It missed us. But there are more out there.
Send your name and message on Hayabusa-2.
Let's invent the future together!