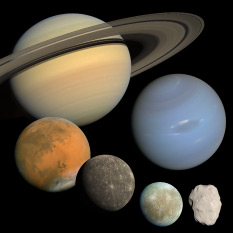 Sean Walker
Latest Processed Space Images

Titan, Tethys, rings, and ringlit Saturn
Posted 2012/04/10 | 0 comments
On May 22, Cassini saw Tethys passing behind Titan as both appeared close to Saturn. Saturn's limb is actually in the image -- its ringlit northern hemisphere is visible as a curving patch of dark gray on the upper left.
They are Watching the Skies for You!
Our researchers, worldwide, do absolutely critical work.

Asteroid 2012DA14 was a close one.
It missed us. But there are more out there.
Send your name and message on Hayabusa-2.
Let's invent the future together!