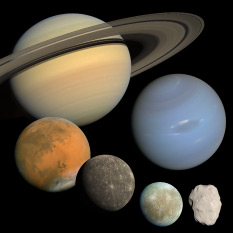 Marc Canale
Latest Processed Space Images

Posted 2012/12/14 | 0 comments
Cassini RGB composite view of Saturn's moons Titan and Rhea taken 11/27/2009.


Enceladus and Rings from Saturn's nightside
Posted 2012/10/25 | 0 comments
Cassini multi-image view of Saturn's moon Enceladus taken on December 25, 2009. Cassini is on the night side of Saturn, seeing only the thinnest crescent of sunlight refracting through its atmosphere's dusk terminator.
They are Watching the Skies for You!
Our researchers, worldwide, do absolutely critical work.

Asteroid 2012DA14 was a close one.
It missed us. But there are more out there.
Send your name and message on Hayabusa-2.
Let's invent the future together!