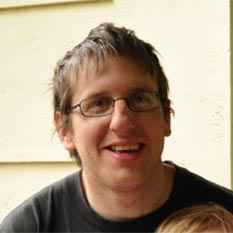 James Canvin
James Canvin (Exeter, UK) follows Spirit and Opportunity on his Martian Vistas website, where he posts beautifully-processed versions of their panoramas. Find him on Twitter here. He is a moderator at unmannedspaceflight.com under the username jamescanvin.
Latest Processed Space Images

Posted 2015/10/19 | 0 comments
This view of Concepción crater is cropped from a panorama captured by Opportunity from sols 2138 to 2142. Concepción is the freshest crater yet visited (or indeed likely ever to be visited) by either rover. The freshness is evidenced by the blockiness of the eject and by the way the ejecta lies on top of the sand dunes. Extending outward from the crater toward the horizon on the left is a crater ray that Opportunity can now see is composed of a dense deposit of blocks. Opportunity went on to drive around this ray to examine it in more detail. In this view, the ray is pointing toward some distantly visible hills, the near (west) rim of Endeavour crater. An even more distant line of hills is behind Endeavour's rim; these are the rim of a crater named Iazu.

The distant peaks of Endeavour and Iazu
Posted 2014/01/02 | 0 comments
An orbital view of Opportunity's road ahead has been rotated to match the orientation of Opportunity's horizon view on sol 2,140 (January 30, 2010). The view of the horizon has been stretched vertically to exaggerate the topography. There are numerous rows of hills on the horizon, representing different portions of craters. The center set of hills is associated with the near rim of Endeavour. The leftmost set of hills is the far rim of Endeavour, and the right-side hills are the rim of another crater, Iazu.

Posted 2014/01/02 | 0 comments
On sol 2,140 (January 30, 2010), Opportunity had roved to the edge of a very fresh crater named Concepcion and begun to gather the images necessary for a full-color panorama. This part of the panorama includes half of Concepcion with its blocky ejecta. On the horizon are the hills formed by the raised rims of two distant craters, Endeavour (Opportunity's goal, still about ten kilometers away) and Iazu.
Beyond The Horizon, There's More To Explore!
Become a member of The Planetary Society and together we will create the future of space exploration.
Featured Video
Toronto Aerospace Showcase 2016

Pretty pictures and
awe-inspiring science.
Let's explore the cosmos together!