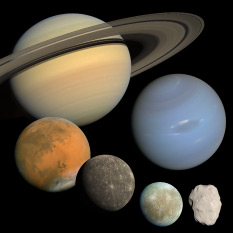 Daniel Macháček
Daniel Macháček (Czech Republic) blogs at My Favourite Universe (in Czech) and posts some of his images and movies on this website and on Youtube. He participates at unmannedspaceflight.com under the username machi.
Latest Blog Posts

Images from the long-awaited Dawn Vesta data set
Posted 2012/11/29 11:55 CST | 4 comments
A few days ago, the Dawn mission finally published their archival data. During the year of delay I often looked with anticipation to the Planetary Data System to check whether or not images were there, and I am delighted that they are finally available. Was the wait worth it? Definitely!
Latest Processed Space Images

Mars from Mariner 9: Approach Animation
Posted 2013/05/18 | 0 comments
At the time of Mariner 9's arrival at Mars, the planet was shrouded in a planet wide dust storm. The giant volcanoes of Tharsis, including Nix Olympica/Olympus Mons poke their calderas above the dust.

Posted 2013/01/30 | 0 comments
A six-image mosaic of Ida and Dactyl. The original data were taken through a clear filter; the images have been colorized based upon earlier color images.

They are Watching the Skies for You!
Our researchers, worldwide, do absolutely critical work.

Asteroid 2012DA14 was a close one.
It missed us. But there are more out there.
Send your name and message on Hayabusa-2.
Let's invent the future together!