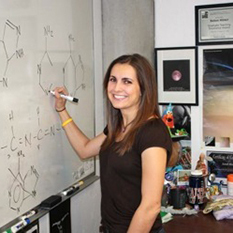 Sarah Hörst
Dr. Horst currently works as a postdoc with Dr. Margaret Tolbert at the University of Colorado. Previously, she worked with Dr. Roger Yelle at the University of Arizona's Lunar and Planetary Laboratory, where she received her Ph.D. in 2011.
Her primary research interest is atmospheric chemistry. In particular, the complex organic chemistry occurring in the atmosphere of Titan. She also has interest in complex organics elsewhere in the solar system (and the universe!), and whether they are produced in an atmosphere or on a surface.
Latest Blog Posts

Posted 2013/05/15 11:55 CDT | 12 comments
A tale from the scientific trenches: laboratory work to simulate Titan's rich atmosphere.
They are Watching the Skies for You!
Our researchers, worldwide, do absolutely critical work.

Asteroid 2012DA14 was a close one.
It missed us. But there are more out there.
Send your name and message on Hayabusa-2.
Let's invent the future together!