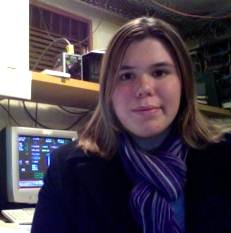 Meg Schwamb
Meg Schwamb is a National Science Foundation postdoctoral fellow at Yale University. She's currently searching for previously unseen Kuiper belt objects in the southern skies with the La Silla-QUEST KBO Survey and is hunting planets in Kepler data with the Planet Hunters project.
Latest Blog Posts

Posted 2011/06/08 02:43 CDT | 0 comments
On May 5 and 6, I had a run on the WIYN (Wisconsin-Indiana-Yale-NOAO) telescope, a 3.5 m telescope, the second largest telescope on Kitt Peak in Arizona.

Posted 2011/05/25 08:30 CDT | 0 comments
The last decade has seen an explosion in our understanding of the solar system with the discovery of the largest Kuiper belt objects (KBOs) of comparable size to Pluto.
They are Watching the Skies for You!
Our researchers, worldwide, do absolutely critical work.

Asteroid 2012DA14 was a close one.
It missed us. But there are more out there.
Send your name and message on Hayabusa-2.
Let's invent the future together!