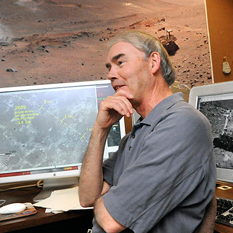 Larry Crumpler
Dr. Larry S. Crumpler is the Research Curator of Volcanology and Space Sciences at the New Mexico Museum of Natural History and Science, as well as an Associate Professor at the University of New Mexico.
Larry has participated in many NASA planetary missions over the years, including the Viking, Pathfinder, and Mars Exploration Rover missions, and Magellan synthetic aperture radar mapping missions to Venus. Currently he is a Science Team Member on the Mars Exploration Rover (MER) mission where he continues to play a leadership role in daily planning of Opportunity's "natural history" exploration of the surface of Mars. He is also a Science Team Member on the Mars Reconnaissance Orbiter High-Resolution Imaging Science Experiment (HiRISE). He was also a collaborator on the Mars Odyssey orbiter Gamma Ray Spectrometer (GRS) instrument.
Larry's current research is divided between two topics: 1) young volcanic terrains in both New Mexico and Arizona, specializing in the physical processes of volcanism, particularly the relatively unstudied volcanology of late Cenozoic basaltic volcanism in New Mexico; and 2) geology of the terrestrial planets, with emphasis on planetary volcanism. His field work has focused on geologic mapping of youthful volcanic terrains and the physical volcanology of lava flows. He has spearheaded several public education efforts in regional volcanism and local geology.
Profile image credit: Albuquerque Journal
Latest Blog Posts

Field Report From Mars: Sol 3494 - November 21, 2013
Posted 2013/11/22 05:39 CST | 4 comments
On sol 3485 Opportunity pulled up next to a large outcrop here on the rim of Endeavour crater. The outcrop appears to be impact breccias like those we saw a few sols ago lower down on the ridge. But the texture of the rocks is somewhat different.


Field Report From Mars: Sol 3431 - September 18, 2013
Posted 2013/09/18 11:27 CDT | 2 comments
On sol 3425 Opportunity "waded ashore" at Solander Point after crossing a sea of sand between here and Cape York. Cape York was an "island" remnant of the rim of Endeavour crater that Opportunity left back in May. Since then it has been driving south to the next largest and mountainous remnant of the crater rim, Solander Point.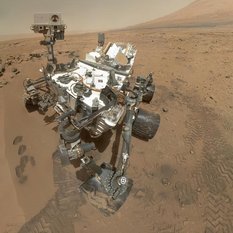 Our Curiosity Knows No Bounds!
Become a member of The Planetary Society and together we will create the future of space exploration.
The Autumn Equinox issue is out!
Let's invent the future together!