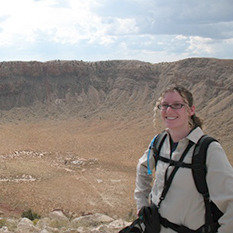 Kelsi Singer
I am a seventh year graduate student at Wash U. studying under Professor Bill McKinnon. I research the geology and geophysics of the icy moons of Jupiter and Saturn. I expect to complete my PhD in Spring 2013.
My work has looked at a variety of geologic features on several moons. I then relate these surface features to theories about the interior dynamics, surface material properties, thermal history, or lithospheric stress state of these moons. See more here.
Latest Blog Posts

Sturzstroms on Saturn's Moon Iapetus
Posted 2012/10/01 04:31 CDT | 0 comments
Long-runout landslides (sturzstroms) are found across the Solar System. They have been observed primarily on Earth and Mars, but also on Venus, and Jupiter's moons Io and Callisto. I have just published a paper about sturzstroms on Iapetus.
They are Watching the Skies for You!
Our researchers, worldwide, do absolutely critical work.

Asteroid 2012DA14 was a close one.
It missed us. But there are more out there.
Send your name and message on Hayabusa-2.
Let's invent the future together!