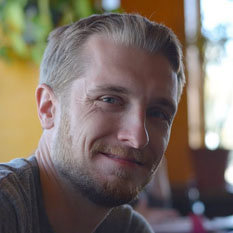 Jason Davis
Jason Davis is a science journalist and guest blogger for the Planetary Society. He is a journalism graduate student at the University of Arizona. Links to more of his work can be found on his website.
Follow Jason on Twitter, Facebook and Google+, or contact him via e-mail.
Latest Blog Posts

Latest Processed Space Images

Posted 2012/10/08 | 0 comments
In this animation from SpaceX's CRS-1 flight, the top-right engine (number one) is engulfed in an orange flash, just before several pieces of debris fall from the Falcon 9.

Daphnis cruises through the Keeler Gap
Posted 2012/08/16 | 0 comments
Saturn's moon Daphnis cruises through the Keeler Gap in this series of images taken by the Cassini spacecraft. The moon's gravity tugs on the surrounding ring material, creating ripples.
They are Watching the Skies for You!
Our researchers, worldwide, do absolutely critical work.

Asteroid 2012DA14 was a close one.
It missed us. But there are more out there.
Send your name and message on Hayabusa-2.
Let's invent the future together!