Tanya Harrison
Web Editor Intern
tanya.harrison@planetary.org
+1-626-793-5100
Tanya Harrison wears a number of hats: Web editor intern for The Planetary Society, Ph.D. Candidate in Geology at the University of Western Ontario, public outreach assistant with the Centre for Planetary Science and Exploration, and professional photographer in whatever spare time exists outside of the rest of that.
After receiving her Bachelor of Science in astronomy and physics from the University of Washington and Master of Arts in Earth and environmental sciences from Wesleyan University, Tanya took a break from academia. She spent 4 years working in mission operations as an assistant staff scientist at Malin Space Science Systems on the Mars Reconnaissance Orbiter Context Camera (CTX) and Mars Color Imager (MARCI), as well as the Mast Cameras (Mastcam), Mars Hand Lens Imager (MAHLI), and Mars Descent Imager (MARDI) aboard the Curiosity rover. She was also involved in public outreach activities for those missions, as well as with The Mars Society and The National Space Society. For many years she was also the head of space and/or science track programming for Norwescon, the Pacific Northwest's largest sci-fi and fantasy convention, only relenquishing the position because she moved to the other side of the continent. She now dually resides in London, Ontario and San Diego, California.
Tanya's Martian life can be found at Tanya Harrison | Of Mars and on Twitter.
You can contact Tanya via e-mail at tanya.harrison@planetary.org.
Latest Blog Posts

Posted 2013/11/18 04:56 CST | 4 comments
MAVEN launched flawlessly and pretty much exactly on schedule. Congratulations to NASA, the MAVEN team, and United Launch Alliance for a picture perfect launch!

Posted 2013/11/18 04:34 CST | 1 comment
Bright and early this morning, we NASA Social folks met at the Kennedy Space Center Visitors Complex for a tour of the space shuttle Atlantis. This is the first shuttle I've seen in person, and it was a stunning sight to see.

Posted 2013/11/17 09:00 CST | 0 comment
I am at the MAVEN launch at Kennedy Space Center for a "NASA Social" event. These events are geared towards space enthusiasts of all backgrounds who are active on social media to increase public awareness and excitement about NASA.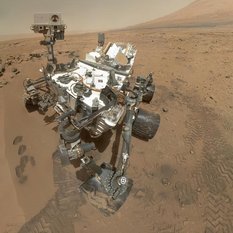 Our Curiosity Knows No Bounds!
Become a member of The Planetary Society and together we will create the future of space exploration.
Travel to Bennu on the OSIRIS-REx spacecraft!
Let's invent the future together!