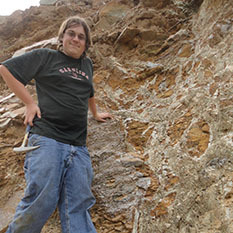 Justin Cowart
Justin Cowart is a geologist and amateur astronomer living in Carbondale, IL. Justin has had a lifelong interest in exploring space, and one of the most fun ways to satisfy that curiosity has been looking at the images returned by space missions. His interests lie in reprocessing old data (which looks surprisingly good when it's run through modern computers!) and finding aesthetically-pleasing images that may not have gotten noticed otherwise. He can be found on Twitter as @jccwrt, and on Flickr.
Unless otherwise specified, the work of Cowart is shared on planetary.org under a
Creative Commons Attribution 3.0 Unported License
.
Contact us
to request publication permission.
Latest Blog Posts

Posted 2016/07/08 08:02 CDT | 7 comments
With Juno arriving at Jupiter, Justin Cowart gives us a lesson on the giant planet's varied cloud patterns.

Posted 2016/05/04 12:45 CDT | 1 comment
Justin Cowart shares some spectacular images showcasing Mars' volcanoes from Mars Express.

A Sunset on Mars: Crafting a scene from archival data
Posted 2016/03/08 01:30 CST | 2 comments
Ever wanted to stand on Mars and watch a sunset? Unfortunately for many of us, it will never be something that we get to experience in person. But thanks to our robotic emissaries on Mars, and some careful processing of images from NASA's Planetary Data System, we can get a sense of what it's like.
Latest Processed Space Images

Posted 2016/09/20 | 0 comments
This Voyager 2 Narrow Angle Camera image of Neptune was taken on August 20, 1989 as the spacecraft approached the planet for a flyby on August 25. The Great Dark Spot, flanked by cirrus clouds, is at center. A smaller dark storm, Dark Spot Jr., is rotating into view at bottom left. Additionally, a patch of white cirrus clouds to its north, named "Scooter" for its rapid motion relative to other features, is visible. This image was constructed using orange, green and synthetic violet (50/50 blend of green filter and UV filter images) taken between 626 and 643 UT.

Posted 2016/09/20 | 0 comments
This OGV (orange, green, and violet filters) color image of Neptune and Triton was captured by Voyager 2 as it departed the Neptune system. This image was taken around 735 UT on August 31, 1989. The small amounts of chromatic aberration around the horns of the crescent Neptune are due to smearing of the images during the long exposures necessary to image Neptune in the low lighting of the outer Solar System.

Posted 2016/09/20 | 0 comments
Neptune's Great Dark Spot rotating into view of Voyager 2 late on August 23, 1989. This image is a combination of two images narrow angle camera images taken through the spacecraft's green and clear filters to reduce noise. It has been colorized with three wide angle camera images taken through orange, green, and violet filters.
Beyond The Horizon, There's More To Explore!
Become a member of The Planetary Society and together we will create the future of space exploration.
Featured Video
The Planetary Post - Star Trek 50th Anniversary

Pretty pictures and
awe-inspiring science.
Let's explore the cosmos together!