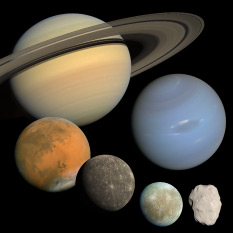 Ian Regan
Latest Processed Space Images

Saturn's northern storm on Feb. 4, 2011
Posted 2012/04/10 | 0 comments
As part of its routine monitoring of Saturn's atmosphere, Cassini took the photos needed to compose this false-color composite view of the storm reaching across much of the planet's temperate northern latitudes on February 4, 2011. (The view is composed of three images taken through infrared, green, and blue filters.)

Cassini's views of Helene through March 2010
Posted 2012/04/10 | 0 comments
Ian Regan composed this montage of Cassini's highest resolution views of Dione's co-orbital moon Helene to attempt to make sense of the positions of its features. The small moon appears very different seen from different angles and under different lighting conditions.

Titan and Dione with Saturn and rings
Posted 2012/04/09 | 0 comments
On May 21, 2011, Cassini saw Dione pass behind Titan as both passed in front of the yellow bulk of planet Saturn. High-altitude haze above Titan makes a brown ring around it, through which Saturnlight shines.
They are Watching the Skies for You!
Our researchers, worldwide, do absolutely critical work.

Asteroid 2012DA14 was a close one.
It missed us. But there are more out there.
Send your name and message on Hayabusa-2.
Let's invent the future together!