Björn Jónsson
Björn Jónsson (Iceland) is the developer of the IMG2PNG software, which batch-converts spacecraft image data to PNG format. His website contains simulated views of other planets produced using image maps generated from space image data; most of his image processing work is posted only within unmannespaceflight.com or on this website. (UMSF Moderator: Bjorn Jonsson)
Unless otherwise specified, the work of Jonsson is shared on planetary.org under a
Creative Commons Attribution-NonCommercial-ShareAlike 3.0 Unported License
.
Contact us
to request publication permission.
Latest Blog Posts


Voyager 1 revisited: Io and Europa transiting Jupiter
Posted 2013/01/22 06:04 CST | 0 comment
What is the highest resolution global Jupiter mosaic that includes a satellite transit that can be assembled from Voyager images? Satellite transits are especially beautiful when the resolution is high enough for some details to be visible on the satellites so I decided to check this. And I was remarkably lucky.
Pretty picture: Landsat view of southern Greenland
Posted 2012/11/13 05:24 CST | 0 comment
This is a very large (19000 pixels square) mosaic of the fjords and glaciers of southern Greenland. I had been interested for a long time in experimenting with the processing of Earth satellite imagery just to get a comparison to the other planets.
Latest Processed Space Images

Posted 2014/01/07 | 0 comments
This animation is composed of calibrated, archival science data. Cassini captured the 90 frames for this animation of the braided F ring at intervals of 3.5 minutes on February 13, 2013 from a distance of 650,000 kilometers.


Jupiter's cloud motions as Voyager 1 approaches
Posted 2013/10/19 | 0 comments
This movie is based on 58 orange-green-blue color composites obtained on every Jovian rotation from January 6 to January 29, 1979. Over this period Voyager 1's distance from Jupiter dropped from 58 to 36 million km, so the resolution and sharpness of the frames increases from start to finish. The 58 frames were tweened, increasing the number of frames by a factor of 8 (that is, 7 synthetic frames are inserted between each real frame).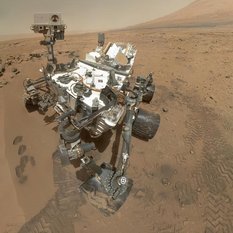 Our Curiosity Knows No Bounds!
Become a member of The Planetary Society and together we will create the future of space exploration.
Travel to Bennu on the OSIRIS-REx spacecraft!
Let's invent the future together!