Björn Jónsson
Björn Jónsson (Iceland) is the developer of the IMG2PNG software, which batch-converts spacecraft image data to PNG format. His website contains simulated views of other planets produced using image maps generated from space image data; most of his image processing work is posted only within unmannespaceflight.com or on this website. (UMSF Moderator: Bjorn Jonsson)
Unless otherwise specified, the work of Jonsson is shared on planetary.org under a
Creative Commons Attribution-NonCommercial-ShareAlike 3.0 Unported License
.
Contact us
to request publication permission.
Latest Blog Posts

Posted 2015/02/18 01:38 CST | 2 comments
Several global maps have been made of Europa, but amateur image processor Björn Jónsson felt they could be improved—so he decided to make a new one.


Latest Processed Space Images

Björn Jónsson's color global map of Europa from Galileo and Voyager data
Posted 2015/02/18 | 0 comments
This map of Europa employs 190 images from NASA's Galileo spacecraft and 14 images from NASA's Voyager 2 spacecraft that have been color-matched to produce as seamless a global map as practicable with current data sets. Warning: the fully enlarged version is 20,000 by 10,000 pixels and about 30 Megabytes; some browsers may not display it.


Posted 2014/09/05 | 0 comments
One of the more intriguing aspects of Vesta as seen by Dawn is the "dark material" found across its surface. In most places, dark material is associated with craters. In this photo, the dark material shows up in the ejecta around two large impact craters, but the relationship between the dark stuff and the crater is not obvious. The left crater is the 17-kilometer-diameter Fulvia. In some places the dark material seems to be associated with small secondary craters, but in other places there is no obvious origin. This photo consists of three high-resolution images taken on December 20, 2011, March 13, 2012 and April 17, 2012, colorized with a lower-resolution image taken on September 30, 2011.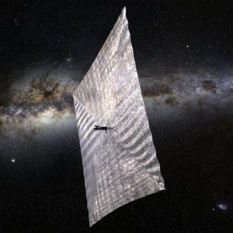 The excitement is building! LightSail is counting down to our test launch, set for May 20—and you're invited.
Featured Video
Solar Sailing
Take flight with a selfie on LightSail™ in 2016!
Let's invent the future together!