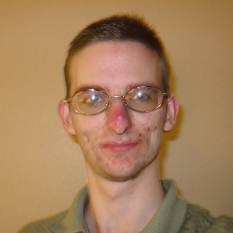 Jason Perry
Jason Perry works with the Cassini Imaging Team at the University of Arizona in Tucson, designing observations of Saturn's moon Titan and processing the returned images. Prior to joining Cassini in 2004, Jason worked with the Galileo Imaging Team, processing images of Jupiter's moon Io.
Twitter: volcanopele
Latest Blog Posts



Posted 2010/08/20 05:15 CDT | 0 comment
Thanks to its active volcanic activity and sulfur-rich surface, Io is one of the most colorful worlds yet seen in the Solar System, save the Earth of course
Latest Processed Space Images

Posted 2015/07/14 | 3 comments
The solar system contains dozens of objects that are large enough for self-gravity to make them round, and yet are not considered planets. They include the major moons of the planets, one asteroid, and many worlds in the Kuiper belt. The ones that we have visited with spacecraft are shown here to scale with each other. A couple of items on here are not quite round, illustrating the transition to smaller, lumpier objects.

Io mosaic from Galileo's I24 Flyby
Posted 2013/09/03 | 0 comments
This 12-frame mosaic from the Galileo Solid-State Imaging Experiment (SSI) covers much of the anti-Jovian hemisphere of Io at 1.45 km/pixel, with Jupiter in the background. Unlike the other mosaics from the I24 flyby, these images were acquired in full-frame mode. Images acquired in that mode did not suffer from the scrambling inflicted on the summation mode images during I24. This mosaic was designed as part of a stereo pair along with a similar mosaic acquired during C21 in July 1999; however, the relative blandness of much of the terrain outside Io's mountains and volcanoes, plus the unusual phase functions of many of its surface materials complicate the development of digital elevation models from these two data sets. The scrambled raw data for this image was unscrambled by a program developed at JPL using the LabVIEW software from National Instruments of Austin, TX.

Posted 2013/09/03 | 0 comments
The Galileo Sold-State Imaging Experiment (SSI) acquired the images used in this color global mosaic of Io in front of Jupiter on orbit G2 on September 7, 1996. The camera's red, green, and violet filters were used for color. The mosaic is centered at 0.6°N, 174.6°W and has a resolution of 4.9 kilometers per pixel.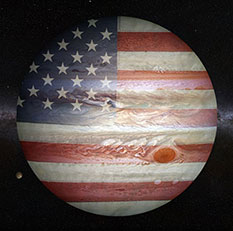 Space rarely makes a strong showing in national elections, despite the major state of transition NASA finds itself in today.
Help us catalog and source statements made by candidates referring to civil space issues.
Featured Video
Intro Astronomy 2016. Class 2: How We Explore Space

Pretty pictures and
awe-inspiring science.
Let's invent the future together!