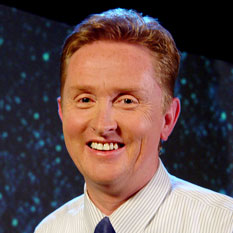 Glen Nagle
Working in the science education and space industry for more than 30 years, Glen Nagle has held roles in organisations such as the Australian Space Industry Chamber of Commerce, the National Space Society of Australia, and has been on the organising committees of several international space industry conferences.

Since 2002, Glen has been the Education and Public Outreach Manager at the Canberra Deep Space Communication Complex (CDSCC); a part of NASA's Deep Space Network. He manages the Complex's Visitor Centre and promotes space exploration to the 70,000 visitors it attracts each year to view its exhibitions and learn more about the giant antenna dishes which provide two-way contact with dozens of robotic spacecraft exploring the Solar System and beyond.

Glen's passion for space science is passed on to the 12,000+ school students he talks to each year; helping them to discover their own interests in science, technology, engineering and mathematics.

He is a regular commentator on space matters in the media and has written for several industry and commercial publications. For three years, he was also the writer and presenter of a weekly TV program on astronomy and space, called Skywatch. He contributes regularly on social media (under several profiles) and is active on space focussed web forums such as Unmanned Spaceflight.com.

When he gets time (which he says is "not often"), he likes to relax creating space-themed digital artworks and developing small business websites.
Latest Planetary Radio Appearance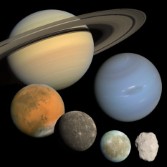 Latest Processed Space Images

Posted 2015/05/24 | 0 comments
On its 956th sol (day) on Mars, the rover Curiosity used its Mastcam to image a stunning sequence of the Sun (Sol) setting over the local horizon at Gale Crater, where it has been exploring since August 2012. The individual images taken by Curiosity covered a period of about 6 minutes. The sequence of images was too intermittent to make smooth movie of the sunset on its own. Using the foreground and horizon from one image and then recreating the sky and Sun in Photoshop, Glen Nagle used Adobe Premier to create a near real-time sunset sequence as if you could stand on Mars and see it for yourself. With the addition of a little 'lens flare' and the haunting music 'Lux Aeterna' by György Ligeti, this imagining of a sunset on Mars evokes a sense of awe and reverence.

Curiosity: This is not the droid you're looking for!
Posted 2013/05/18 | 0 comments
A mashup between the Jawa attack scene from Star Wars: A New Hope and NASA's Mars Science Laboratory rover called Curiosity. It's a fun idea and I hope you get a laugh out of it. Hope Mr Lucas doesn't mind ;) No copyright is being asserted in this video. It is for entertainment purposes only. No Mars Rovers were hurt in the making of this film. :)

Our Advocacy Program provides each Society member a voice in the process.
Funding is critical. The more we have, the more effective we can be, translating into more missions, more science, and more exploration.
Featured Video
The Planetary Post - Carl Sagan's Pale Blue Dot

Pretty pictures and
awe-inspiring science.
Let's explore the cosmos together!